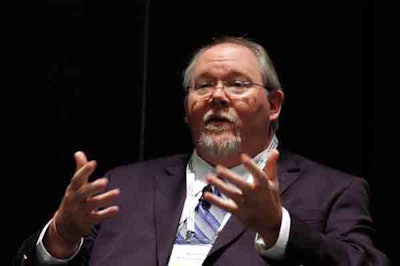 Volunteers include: Kevin Woods, Verst Group; Wayne Watson, DPL Corp.; Joe Jaruszewski, Market Resource Packaging; Angel Roloff, The Packaging Summit; John Lyon, Jerrell Packaging; Vicky Wilson, Toll Packaging Group; Jennifer Deamud; Praxis Packaging; Chris Nutley, MSW Packaging; Carri Lane, Premier Packaging; Rick Collett, West Pack Industries; Tom Bacon, Aaron Thomas Co.; Arturo Lizarraga, Sugar Foods Contract Packaging; Len Shaw, Assemblies Unlimited; Gerry Donley, Toll Packaging Group; Phil Nader, Diversapak; and Paul Tomick, First Choice Packaging.
To these and any volunteers not mentioned above, thank you.
CPA annual meeting exceeds expectations
The association's first-ever keynote speaker, Michael "Pinball" Clemons, set the tone for the 2007 Annual Meeting in late March in Tucson, AZ. Clemons is a former running back and current head coach of the Toronto Argonauts football team. His presentation was captivating and empowering. It clearly demonstrated the remarkable things that humans can accomplish be it on the athletic field or in any company through dedication, perseverance, hard work, and a positive attitude. This was very much in keeping with the theme of this year's meeting: "Winning Strategies to Flawless Execution How Winners Do It."
Based on evaluation scores and written comments, the business presentations were equally well received. This material is available on the Contract Packaging Association's Web site at www.contractpackaging.org. It is free for members and $100 for non-members.
Networking opportunities, as well social and recreational activities, were the best ever at this year's Annual Meeting. Two quotes were typical of a number received. Tbe first one was "My compliments on the terrific job you and your staff did in planning and executing the annual meeting."
The second one: "I want to thank you for an exceptional meeting. I can't remember the last meeting I attended that was so informative and well planned."
The association is fortunate to have had several sponsors to help hold down costs. They include three gold sponsors: Alcoa Flexible Packaging, R.A. Jones, and Nulogy Corp. Other generous sponsors include Packaging World/ Contract Packaging magazines, Nina Plastics, and Sugar Foods Contract Packaging.
CPA has strong presence at Packaging Summit
In its third year, the Packaging Summit Expo and Conference has developed into the premier venue for packagers to connect with contract packaging and services providers while also participating in educational conference sessions with leading packaging professionals. CPA's presence at the Packaging Summit this year (May 15-17 at the Donald E. Stephens Convention Center in Rosemont, IL) was powerful, from participating in the opening ribbon-cutting ceremony (truly a global event with World Packaging Organisation leaders present) to heading up one of the conference's most popular roundtables, "Driving Innovation ... with Contract Packaging Resources," with more than 200 people attending this session on May 17.
The roundtable analyzed and examined the following contract packaging "hot buttons": the role contract packaging plays in new package initiatives, recruiting the contract packager onto a multi-disciplinary team, and communication to reduce development time and costs.
Terry Bedell, president of TAB Associates, moderated the roundtable. The panelists were Todd Jones, external manufacturing manager, Miller Brewing Co.; John Mazelin, business development director, Packaging Unlimited; Mark Hancock, manager of packaging procurement and graphics, Brach's Confections Inc.; Todd Rogers, external manufacturing manager North America, Alberto Culver; and George Hill, research principal, The Scotts Co.
The next Packaging Summit Expo and Conference will take place May 13-15, 2008, at the DonaldE.StephensConvention Center in Rosemont, IL.
CPA plans upcoming schedule
It is the intention of the Contract Packaging Association to be as visible as possible at events where the presence of contract packaging services buyers and providers is active and growing. This exposure accelerates new member development and the interaction between members and those who can buy their services.
Events on the association's upcoming calendar include the CP 07: Success With Contract
Packaging conference (www.packworld.com/cp07) Sept. 10-12 in Chicago; the HBA Show (www.hbaexpo.com) Sept. 18-20 in New York; Pack Expo Las Vegas (www.packexpo.com) Oct. 15-17 in Las Vegas; and The Packaging Summit Expo and Conference 2008 (www.pkgsummit.com) May 13-15, 2008, in Rosemont, IL.
If anyone in your company will be attending these events, please invest a few minutes and stop by the CPA booth. We will be pleased to see you.
Kitting and assembly the hidden market
CPA members (contract packagers), associate members (suppliers to contract packagers) and, particularly, those companies that buy contract packaging services, should be aware of a significant contract packaging category not often discussed because it does not typically involve primary or even secondary packaging, nor is it by definition market-specific. We're talking, of course, about kitting and assembly, and it's the subject of the cover article in this issue of Contract Packaging magazine.
Kitting and assembly is a capability of a number of Contract Packaging Association members. It may well be the single most required service offered. This because it is difficult, if not impossible, to pull together the proper mix of temporary labor required to get a very important job done on time. Here are typical capabilities of CPA members involved in kitting and assembly activities:
• Large, flexible workforce
• Value-added services, including packaging, warehousing, and shipping
• Modern and well-equipped facilities
• Quality and cost-competitive services
Typical services offered are product and kit assembly, point-of-purchase displays, shrink-wrapping, poly bagging, skin carding, re-work, inspection, and sorting. To find out how one of our members can help your company with a kitting project, visit www.contractpackaging.org.
Companies in this article