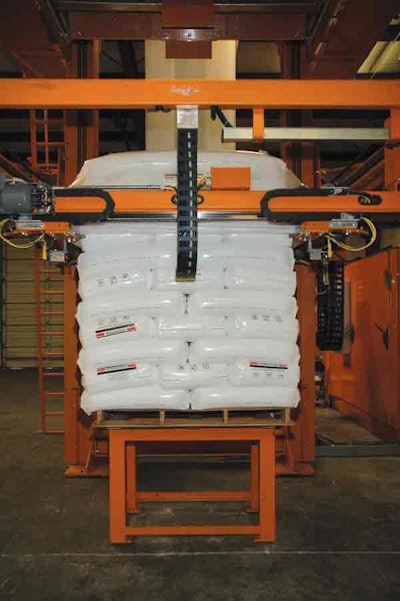 Inadequate unit load wrapping could potentially cost consumer packaged goods companies (CPGs) $388 million annually in product damage. Inconsistent application of packaging material and limited and inappropriate use of stabilization devices—also known as dunnage—in trailer trucks are contributing to poor stabilization of unit loads and may lead to significant product damage as the unit loads move through the supply chain.
These are the major findings of a new study from Carolina Supply Chain Services (CSCS, www.carolinasupplychainservices.com), a Carolina Logistics Services company. The Dow Chemical Co. (www.dow.com) sponsored the study, conducted in 2006. In addition to CPGs, the results are increasingly relevant to contract packagers whose broadening menu of services is moving them downstream from packaging into warehousing, distribution, and logistics.
The study pinpointed and quantified damages by examining shipment, unit load, pallet, and shipper performance at the point-of-manufacture distribution center, the customer's distribution center, and retail stores' receiving docks. More than 28,000 unit loads in 886 shipments of dry, chilled, and frozen goods were audited as part of the study.
"Manufacturers that are trying to get their products to store shelves without damage could reduce a significant amount of that damage by taking a closer look at how they unitize their loads," says John Laehu, market manager for industrial and consumer packaging at Dow Chemical, in summarizing conclusions that can be drawn from the study results. "The CSCS study shows that poor unitization technology can have an impact on the bottom line, and manufacturers may benefit from alternatives to their current technologies—alternatives such as stretch hoods, for example."
Additional findings
CSCS' analysis determined that packaging improvements were major factors in helping CPGs reduce their payments for spoiled merchandise between 2004 and 2005.
"One of the key findings of the study is that the most prevalent types of damage to unit loads include shifting, ripped, or loose packaging; crushing; water damage; and infestation—all scenarios that can be minimized by the proper use of the right unitization technology," says Mike Rawlins, director of performance research systems at CSCS.
Following are some of the study's other findings:
• 48% of shipments had no stabilization devices (dunnage) used within the trailer.
• 39% of unit loads did not fit effectively within the pallet footprint.
• 14% of unit loads lacked sufficient wrapping to attach the load to the pallet.
• 9% of unit loads that used stretch wrap showed evidence of wrap issues that could promote both poor stabilization and damage to shipping units.
What results do these shortcomings lead to at retail? Consider club stores, where the display pallet is the shelf. When a damaged pallet arrives at the store, some or all of the product units on the pallet cannot be sold. In addition, the visual display of the pallet is compromised, potentially leading to lost sales.
"When you look at the study results, it's clear that no single unitization technology is going to protect every unit load. Manufacturers have to carefully consider their unitization options," Laehu says.
One solution is stretch hoods. They provide five-sided protection without the need for an additional top sheet, as stretch wrap requires. Stretch hoods improve load stability by attaching the load to the pallet.
The CSCS study concluded that wrapping the unit load to the pallet could further reduce shifting and protrusions, and limit the amount of damage caused by overhang and underhang. [CP]
Companies in this article