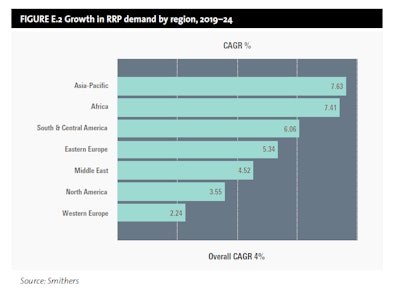 Demand for retail-ready packaging is coming from emerging and transitional economies, with Asia-Pacific accounting for 4.5 million metric tons – nearly half the total global demand – according to Smithers latest report, The Future of Retail-Ready Packaging to 2024.
Western markets, which are relatively mature, will show below-average growth through 2024. South and Central America will account for the second-highest volume demand – at 1.7 million metric tons. The total global demand is 9.1 million metric tons.
Global demand in value for retail-ready packaging (RRP) exceeded 29.1 million metric tons in 2018, having grown by an average of 4% annually since 2014. The market was worth an estimated $57.46 billion in 2018.
RRP consumption is expected to increase on average by 5.4% annually from 2019 to 2024, reaching a total of nearly 40 million metric tons valued at $77 billion at constant 2018 prices.
End-Use Trends
The use of RRP in the fresh produce, dairy and bakery markets accounted for more than half the total volume consumed in 2018. These three sectors are expected to retain their dominant market share over the medium term. Overall, there is expected to be a slight shift in market share in favor of non-food items through 2024.
Innovation is at the forefront of development in the RRP industry, with many end-use sectors enjoying the benefits of new designs in RRP.
Frozen foods and household care products will show the highest growth among the various end-use sectors for RRP, at CAGRs of 8.1% and 6.9% respectively. The lowest growth lies in pet food (2.51%) and canned food (2.58%).
Pack Formats
Die-cut containers account for 55% of the volume demand for RRP in 2018 with plastic making up nearly a quarter of the total. By 2024, these two formats will maintain their relative positions, but the major shift will be from shrink-wrapped trays to modified cases, with a 2% market share changing places between these two formats.
Through 2024, the growth will be fastest in modified cases, with a 10.1% CAGR by volume pushing consumption from 2.44 million tons (2019) to 3.93 million metric tons (2024). There will be new demand for shrink-wrap trays will be low, at a sluggish 1.8% CAGR, and demand will actually drop in developed economies – Western Europe, the US, Canada and Japan.
For more information about Smithers' latest report, The Future of Retail-Ready Packaging to 2024, please download the brochure at https://www.smithers.com/services/market-reports/packaging/the-future-of-retail-ready-packaging-to-2024.