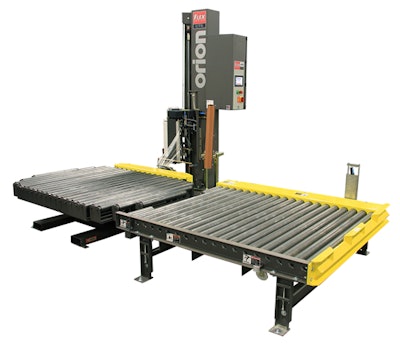 Orion Packaging, powered by Pro Mach, has introduced the Flex CTS automatic stretch wrapping system, which now features the company's latest control technology and stretch wrapping functionally. The Flex CTS features twin side-by-side platforms: one for wrapping and one for pick up. Its automatic stretch wrapping mechanics maximizes pallet handling efficiency for small- to mid-sized shipping operations.
The rugged steel-framed Flex CTS stretch wrapping machine offers features such as automatic load height sensing for seamless wrapping of different pack patterns, 260% powered pre-stretch for maximum material savings, AC motors and variable frequency drives for reduced maintenance, and gradual start-up and ramp-down. This last feature provides for greater load stability during the stretch wrapping process.
Also included is the latest IntelleVue control package with 7-in. high-definition color touchscreen HMI. This bilingual interface simplifies recipe-based operations: operators gain access to all machine functions in only two clicks and the HMI stores up to 10 wrap recipes for fast, trouble-free changeover. Connection through an Ethernet port to the machine dashboard provides access to remote diagnostics management tools and help with troubleshooting. The USB port provides for fast, secure loading of software updates. The Flex CTS has a 5,000-lb. load capacity and, at 15 rotations/min., quick wrapping for optimum throughout.
The Flex CTS now offers a film-tail cut-and-wipe-down feature that automatically attaches the tail end of the stretch wrap to the load for a professional hands-free finish to the automated wrapping process. The Flex CTS is engineered so that the forklift driver does not have to dismount during loading, start of wrapping, or unloading. And while one pallet is being wrapped, another is ready for forklift pickup for efficient forklift utilization.
Companies in this article