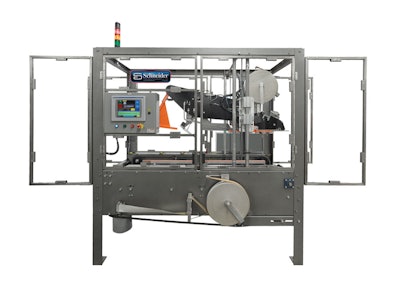 Using the latest technology, the SR5000WAT is equipped with a servo driven sensing head to measure box heights and dramatically increase case throughput. The SR5000WAT will automatically index random size cases from a powered infeed conveyor and automatically fold all top flaps and apply recyclable, pilfer resistant water activated tape to the top and bottom of the case.
Designed for 24 hour/7 day duty, the SR5000WAT seals up to 25 cases per minute with perfect application, adhesion and cut every time, no operator required. Safety features include complete interlocked safety guarding and box jam sensors to protect the sealed product.
Built in modular steel construction with heavy duty, corrosion resistant, aluminum components, it is light weight and allows for easy component changes.
Companies in this article