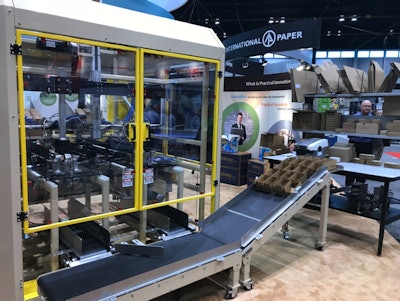 International Paper's Automated Small Box Solution was on display at PACK EXPO. Designed for e-commerce, this small-box system features 0.014 cubic-foot boxes running on an automatic tray former.
The tray former has a modest 8-ft x 8-ft x 8-ft footprint, and can handle boxes sized 4-in x 3 in x 2 in up to a maximum box size of 10 in x 7 in x 5 in. These trays (or unclosed boxes to be filled further down the lines at a fulfillment center) enter the machine as magazine-fed die-cut inserts. They are then tray-formed in the machine on duplicate mandrels so as to achieve speeds up to 40 trays/min.
Boxes feature a flat-bottom design for increased strength. Benefits include significant production potential while taking up limited floor space. It also allows for reduced shipping costs and less need for filler material due to boxes being rightsized for small packages. Small size speeds up fulfillment, uses less sealing material, provides a flat surface, and protects the product to the last mile, according to the company.
Companies in this article