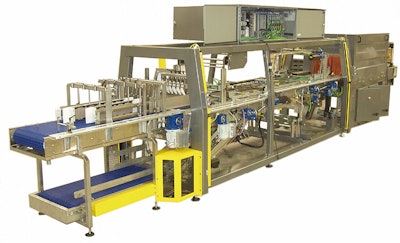 New Sentry machines "meet the needs of the marketplace without going overseas"
As Steven Prance explains Sentry's new packing and overwrapping machine family "We felt there was an opportunity for an American supplier to provide equipment that meets the needs of the marketplace without going overseas." Sentry best known for palletizing processing and conveying solutions primarily serves beverage and canned food manufacturers.
Notable firsts
It was apparently time also for an American company to tackle all the challenges set forth by the OMAC Packaging Guidelines. These are the same guidelines that Procter & Gamble recently announced could save the company $15 million annually.
And so Sentry consciously set out to design a generation of packaging machines from the ground up to fulfill OMAC's visions. The result is a range of modular machines that can pack in trays trays and film pads and film or film only. These are believed to be the first US single-chassis machines capable of all four configurations. Traditionally separate packing and overwrapping machines must be used.
"Our intent was to make the machine completely OMAC from the beginning" said Sentry Director of Packer Engineering Steven Prance. "These are the first American machines we're aware of coming standard with PackML™ across the product family. So they conform with the methods of reporting efficiency and are ideally suited for OEE.
"The goal is to be extremely repeatable to minimize the time required to climb out of changeover and up to operating efficiency. The performance will also be inherently measurable through the OMAC Guidelines."
Fast flexible and reconfigurable
In addition these are tool-less quick changeover machines. No change parts are required -- with the exception of one part to convert a tray machine to film-only operation. Package configurations include single or double lanes for tray and pad packing and up to three lanes for film-only bundles. The wrappers feature small footprint cool to the touch high efficiency shrink tunnels.
In terms of raw speed the family will range up to 120 cpm per lane meaning that a two-lane machine will pack 240 cpm.
Although these performance attributes are decidedly Gen3 these machines were designed specifically to handle the entire American retail market package size range without straining. US package formats are slightly larger than their European counterparts.
A full wrap-around case packer will also be available. In keeping with Sentry's modular design philosophy this machine can also be reconfigured to meet changing requirements. For example it can automatically handle trays. And a case packer could be ordered with the film wrap module to pack and wrap trays when it's not packing cases. Or the wrapper module can always be added at a later date.
Infeeds are uniquely configurable too. Handling systems are available for single- and multi-stack products tray stacking and multilevel can stacking. Can cubes can either be wraparound cased or they can be wrapped in today's high gloss printed films -- ideal for brewers' and club stores' merchandising and cost reduction programs.
PackML and beyond
PackML has received so much attention that it's good to remember that the OMAC Guidelines list goals of 50% improvements in speed changeover time footprint maintenance and related challenges as well.
To put it another way "The days of dedicated line speeds and products are greatly diminished" according to Prance. "With multiple configurations and products being run on the same line we are offering great flexibility without compromising the ability of the machine to run at its rated speeds efficiently."
To address these challenges Sentry designed their new machines from a clean sheet of paper and they partnered with the automation technology partner credited with enabling Gen3 packaging performance in the first place ELAU. Years before a true Gen3 servo or 'mechatronic' machine appeared here European OEMs were using ELAU's PacDrive™ automation system as the basis for their most innovative designs.
For example while domestic controls suppliers appear to be only now discovering programming methods beyond ladder logic ELAU customers have followed templates for integrating all the IEC 61131-3 languages into their applications since 1998.
The resulting applications are easy to develop visualize and diagnose because 80% comes from ELAU's pre-tested software libraries before any custom code is written. Applications that would use 800 lines of ladder code can use only 200 so they execute faster as well.
Sentry is using the new C-Series PacDrive controllers introduced at last year's Pack Expo show. This new generation is 100% backward compatible so all software development and knowledge developed using the original PacDrive controllers work with the new more powerful 1.2 GB Pentium M-based models.
Prance cited ELAU's 6-year lead in applications experience software library development and integrated architecture as instrumental in achieving Sentry's first-to-market advantage.
Synchronized and centralized
Clearly the trend is for format changes to be accomplished as recipe changes and centralized control makes this possible on the new Sentry machines. Two options will be offered. In either case all adjustments in the direction of travel are completely automated. Then the operator either simply adjusts the width or with a recipe driven powered width adjustment option the only human intervention is trading out materials.
Because these machines integrate functions previously performed by independent machines their physical footprint is smaller. Because the PacDrive automation system allows highly synchronized operation there is no need for accumulation space between a packer and wrapper and shrink tunnel.
Prance put it succinctly: "The more closely coupled the faster you can run with the least downtime and the greatest efficiency."
And because the controller is capable of operating an unprecedented 99 servo axes add-on modules don't have separate controllers. They are simply plugged in and run by the centralized controller.
Low maintenance for lowest TCO
"Sentry is not a spare parts company" Prance stated. "You should not need to spend tens of thousands of dollars per year on maintenance. We want to give the lowest Total Cost of Ownership over the life of the machine. Our design goal was a very low annual maintenance cost while maintaining the machine's accuracy and performance over its useful life."
As a result wear parts such as transmission chains have been eliminated. Hollow shaft gearboxes and timing belt drives are used throughout. And the PacDrive system's servos provide diagnostic tools that Sentry engineers can access remotely from their desktops for maximum efficiency using the customer's choice of modem or OPC server interface.
The operator interfaces have a common look and feel across all machines. Great effort was focused on clear simple HMI graphics that are intuitive and language independent. For example the stop button looks like a stop sign. "The machines will look and run the same whether they are 30 cpm or 100 cpm" says Prance. "And while a printed operator's manual still comes with every machine we think the hyperlinked manual loaded directly into the HMI will actually get more use."
For more information on the Sentry family of packing and wrapping machines email Sales@sentryequipment.com or call 434/525-0769. Contact - Prance.
For information on ELAU's PacDrive™ automation system email info@elau.com or call 847/490-4270.
[This is a sponsored article from the supplier listed above.]
Companies in this article