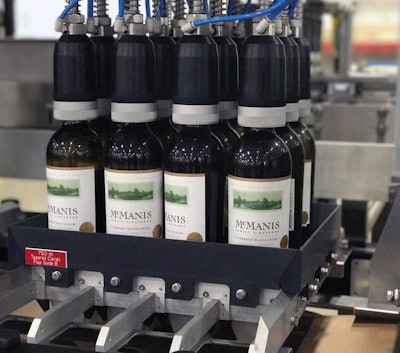 On a new wine bottling line at McManis Family Winery in Ripon, CA, filled bottles exiting a Garvey accumulator move into a lane divider that converts the single-lane flow into three across. Bottles then enter a Flex Loader case packer from Delkor, where a reciprocating pick head with 24 pickers picks 24 bottles and strokes back to a position directly over the empty cases. The 24 bottles are lowered gently into the two cases that have been indexed into the loading station.
The Delkor Flex Loader relies on servo technology from Rockwell Automation. Before moving into the Delkor Flex Loader, formed cases pause at a Wayne Automation partition inserter. "It's a dual-head machine, so it operates pretty fast," notes Director of Packaging Operations Manny Moreno.
As for the Flex Loader, Moreno says it was selected partly because Delkor showed a willingness to customize certain aspects of the machine based on preferences McManis had.
"For one thing, nobody else seemed willing to make a case packer completely out of stainless steel, and we wanted stainless for washdown purposes," says Moreno. "Also supplied on a custom basis is tempered glass guarding as opposed to the LEXAN or plexiglass so typically used. The glass is so much cleaner, and it doesn't get scratched by washing procedures. Delkor even provided dual touch screen panels so that the operator doesn't have to jump over a conveyor to get access to a touch screen control."
McManis's use of reshippers made another bit of Delkor customization necessary. It's what Moreno calls a flying opener. "It's basically a servo-driven flap conditioner," says Moreno. "Unlike the flaps on the cases formed by the DS Smith system, the flaps on the reshippers aren't crisp. They've already lost their memory. So what happens on the Flex Loader is that after the major flaps are plowed open by fixed rails, the flying opener comes in and opens up the minors. Then a sensor, which is there partly to make sure each case has a partition in it, also checks to make sure all the flaps are open. If a partition is not there or if a flap is out of position, that case is automatically rejected and never makes it to the bottle loading station."
Companies in this article