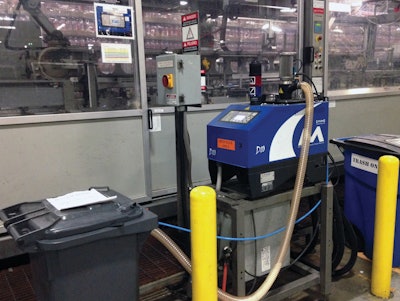 Choice System, a new breed of hot-melt adhesive application, is beginning to catch on in the PepsiCo organization. Seven of these new systems from Valco Melton which feature all-electric operation rather than relying on compressed air more typically found in pneumatic dispensing systems, are being put to use in a PepsiCo bottling plant in Riviera Beach, FL.
According to John Fortini, Plant Director at the Riviera Beach plant, this new way of dispensing adhesive could represent a huge improvement. That's because the pneumatic dispensing systems the firm has been using, which rely on EVA-based glues, historically don't last much more than four or five years, he points out. He's expecting a useful life of six or seven years with the Choice Systems, which utilize a glue from Dura Pro that has natural gas as its base. Fortini describes how his plant became one of the first to commercialize the all-electric adhesive application systems.
"We were in need of new hot melt adhesive systems, and we were in conversations with Pak-Tec, a distributor for Valco Melton," says Fortini. "We agreed to a small trial using our pneumatically based equipment with a metallocene-based, rather than EVA-based, glue. This glue's performance resulted in less charring, clogging, and maintenance. So that opened the door to look at Pak-Tec's proposal to replace all our hot melt systems with Valco Melton's pneumatically based dispensing systems. These new systems would have used metallocene-based adhesives from the start, which would eliminate the EVA adhesive charring and buildup in the pot and hoses. However, before we could move forward with it, Pak-Tec suggested that all-electric dispensing was starting to look like the technology of the future. When we took a look at it, I was really excited about it. You run without compressed air, and the number of moving parts is dramatically reduced. That means fewer repairs, and when repair is called for, it's simpler when fewer parts are involved."
A key to the Choice System is its positive displacement gear pump, supplied in this case by Viking Gear Pump. Driven by an electric motor from Bison Gear & Engineering Corp., it eliminates the need for constant air pressure. The gear pump can be engaged by a signal from the controller so that it only turns and pressurizes the lines while the "parent machine"—case packer, cartoner, tray packer—is running. This reduces wear on seals and promotes a safer operating machine.
Low pressure, large nozzles
Also important is that the use of an all-electric hot-melt system allows for the use of lower pressures and larger nozzles. The same amount of adhesive can be dispensed through a larger nozzle, and a larger nozzle means less clogging.
The use of an electric gear pump and electric valves removes most of the seals and additional equipment required to run pneumatic pumps and valves. Each valve is activated by a coil and contains no dynamic seals. Because the gear pump is turned by an electric motor, it eliminates surges in adhesive flow commonly referred to as "pump wink."
One feature of the new glue systems that Fortini really appreciates is the EcoStitch Valve, a state-of-the-art electrically controlled hot melt applicator. Because of this valve's innovative engineered coil and internal design, the EcoStitch can operate at extremely high speeds, providing application that is clean with virtually no stringing and without reducing the lifespan of the unit.
"It lets us do what's called 'stitching' with our adhesive application, which is really where a lot of cost savings comes in because you don't need to dispense a single continuous line of adhesive anymore," says Fortini. "You can deliver just dots of adhesive. That's what an electric gear pump lets you do instead of delivering adhesive by way of compressed air. With finer application control we get more bang for the buck for every pound of glue we purchase." Fortini estimates a 40 to 50% glue usage reduction with the electric adhesive systems. That means less operator time is spent replenishing bulk glue delivery containers.
"We also find that these new glues are showing us better penetration and contact strength," adds Fortini. "Add to that the fact that we are spending zero time flushing nozzles, debugging problems, or dealing with compression settings. And we can use one adhesive for all seven dispensing systems instead of needing two EVA-based adhesives."
Fortini chooses not to comment on cost comparisons between the all-electric and the pneumatic systems. But Valco Melton on its Web site describes the economies of its dispensing technology this way: "With fewer moving parts virtually eliminating the chances of failure, the spare parts stock is reduced to a minimum, resulting in lower investment, storage costs, and downtime associated with the replacement of parts. On the other hand, the reduction in adhesive usage brings additional savings that guarantee payback in as little as four months."
Machines at the Riviera Beach plant on which Choice Systems are operating include corrugated case packers, corrugated tray formers, and paperboard cartoners. "Pak-Tec retrofitted everything," says Fortini. Their support, he adds, has been tremendous.
"I think it's a game changer," concludes Fortini.
Watch additional video related to this article at pwgo.to/1027
Companies in this article