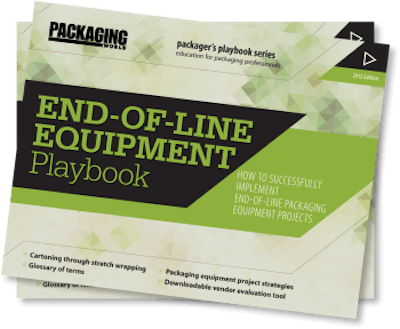 Here are some of the latest trends in robotics that we're seeing:
1. Sanitary design. Certain robots have recently been approved by the United States Department of Agriculture (USDA) for handling meat and poultry products. As meat and poultry processing is a messy business, these robots are now being built with sophisticated coatings, seals, and parts to withstand all the substances involved. Many improvements were made to pass the strict hygiene requirements: from using food-grade grease, to manipulators engineered to be completely clean and smooth, hollow arms to keep all cabling and wiring protected, and joints constructed without crevices where mold or bacteria can build up.
2. Flexibility due to more powerful controls. Today's robots use more powerful controllers that interface more easily to other equipment on your line. With this added power comes the ability to better respond to variations in packing and palletizing patterns demanded by different retailer customers.
3. Gentler handling with more precision. Because of lightweighting of materials, robotics suppliers have designed gentler-handling tools for more delicate packages, especially shrink-film covered multi-packs. Handling is also more precise. Previously, a robot might have used a vacuum pack to pick up a box, whereas now it's more likely to use fork gripper or clamp for better control.
4. Increased safety. Robotic safety has improved, enabling people to work in closer proximity than ever before.
Here are a few tips to keep in mind when buying robotic machinery:
1. Get an integrator. Some of the major robotics manufacturers no longer offer turnkey solutions, and instead actively promote the services of an integrator. Make sure your integrator has relevant experience; that he can show past history, and present good case studies. Just because a robot can handle machine parts doesn't mean it can pick up hamburger buns. A good integrator can help guide your purchase, and smooth the implementation.
2. Perform an accurate simulation. An accurate simulation should be part of the purchase process. Work with your robot company and your integrator to properly simulate what it is you think you're going to buy. A common pitfall is lack of precision about speed and its variations. For example, will the robot be picking product at a rate of 200 per minute all day? Or does it vary from 100 to 300, and the 200 per minute number simply represents an average number at the end of the day? Not accounting for variations in speed can negatively impact design. Simulate the robot speeds closely as you can, and really work at figuring out your available footprint before specifying or purchasing.
3. Take advantage of improvements in vision. With the declining cost of vision technology, it makes more sense than ever to incorporate vision into robotic applications. Some manufacturers are building vision right into the robotics rather than bolting on a third- party system, simplifying deployment and use. Vision adds precision and speed to a variety of pick-and-place applications.