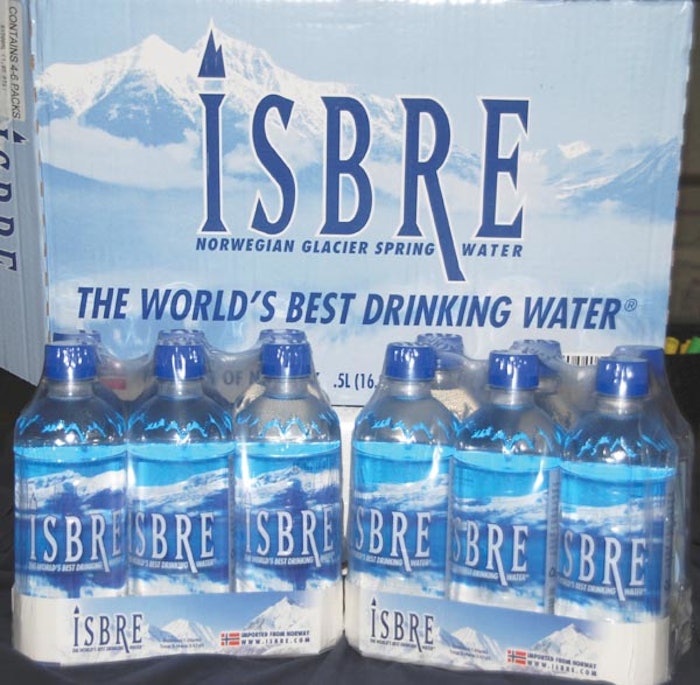 Isbre Holding Corp., Montvale, NJ, successfully began an organized launch of Isbre bottled water in April 2006, opening sales outlets in metropolitan New York City and Philadelphia for individual bottles of its imported Norwegian water. But moving deeper into the American bottled water market was going to require 1- and 0.5-liter multipacks to meet the demands of club stores and larger retailers.
The Norwegian water will be bulk-shipped to the U.S. in tanker vessels, saving considerably on the cost of overseas shipping. And now, ActionPak Inc., Bristol, PA, also is stepping up to the plate.
When ActionPak President Ira J. Smith learned that Isbre intended to open a bottling facility in Bristol, he contacted the company to introduce his contract packaging services. The economic downturn put Isbre's capital improvement plans on hold, so ActionPak's help was fortuitous for Isbre's goal to expand beyond the East Coast.
ActionPak has prior experience with imported products, but not beverages. As Smith explains, most beverage companies cannot justify the costs of shipping overseas, considering the product weight and cube space utilization, for example. But premium beverages can absorb those costs by selling at a higher price, such as Isbre does. With its award-winning crystal-clear bottle, high-end graphics, and proven purity, Isbre's package design supports a higher price tag.
The polyethylene bottle's embossed shoulder mimics a mountainous terrain. The reverse-printed pressure-sensitive roll-on label provides a view of glaciers through the filled water. While the packaging presents a premium look, the product itself also is high quality.
Isbre says it has the lowest total dissolved solids (TDS) for natural, unprocessed water. At a total 4 TDS (parts per million), Isbre compares favorably against some imported waters as high as 1,800 TDS. The water source is located in an artesian aquifer below the 5,000-year-old Hardanger Joekulen Glacier at the end of a 100-mile-long wilderness fjord in Ulvik, Norway.
Isbre water is bottled and labeled in Norway, then shipped throughout Europe and to the port in Newark, NJ. Individually packaged bottles are delivered to ActionPak for multipacking as 72 cases per pallet. Sometimes, the product arrives on European-style pallets, which are not acceptable at many big-box stores. When that happens, ActionPak restacks the cases onto new 40 x 48" Grade A Grocery pallets. "It's another forgotten service that contract packagers perform for imported goods," Smith explains.
In the near future, Isbre Holding Corp. intends to move forward with its plans for a bottling plant in Bristol, on the Delaware River. Then, the Norwegian water will be bulk-shipped to the U.S. in 24,000-liter flexitanks, or large bladders, inside sea freight containers, saving considerably on the cost of overseas shipping.
Not a quick 'fit'
"Contract packagers like us very often offer packaging design and supply chain solutions at no additional costs," Smith explains. "Isbre has an exciting new approach to selling the purest water on the planet. But they were lacking four-, six-, and club-packs.
"The Isbre bottle is unique and very distinctive," Smith continues. "While the bottle is visually pleasing, it makes it a difficult package to shrink-wrap."
Although ActionPak has several shrink-wrappers in its facilities, the company chose to run the Isbre multipacks on a KHS USA  Model SW-35 continuous motion shrink-wrapper and heat tunnel. The packaging is done in ActionPak's 100,000-sq-ft headquarters plant. The original package used Bemis 2-mil polyethylene bundling film; now, the biaxially oriented polyolefin film is Bemis Clysar EZ Gold. Printing for this project is accomplished by Robbie Manufacturing. Says Smith, "Robbie was very responsive and helped us with design and white plate tests on a very short notice."
On retail shelves, Isbre's multipacks must compete with other premium-imported waters, such as Fiji, for example. But Fiji's bottles are rectangular with tapered shoulders, and those bottles square up nicely for shrink-wrapping. "Isbre's bottles are distinct. It's a beautiful look," says Smith, "but the shrink film wants to cling to the shape of the bottle and distort the printed film. This fact did not sit well with our client and needed to be fixed." An initial test run of 30,000 multipacks did not turn out as planned.
Bill Loutitt, Isbre's executive vice president, sales and marketing, practically grew up in the retail grocery trade. His instincts told him that a better package needed to be developed, regardless of the cost. The printed 2-mil polyethylene film was the most cost-effective solution, but it was not measuring up to Isbre's exacting standards of excellence.
Back to the drawing board
In addition to the distortion to the outer wrap's graphics, ActionPak also had to make certain the individual bottles' UPC code was completely hidden. Otherwise, store clerks could accidentally ring up the wrong product at an incorrect price, especially in club store multipacks. Hand placement of the bottles prior to shrink-wrapping, although labor-intensive, eliminated that concern. But the shrink film remained problematic.
That's when ActionPak turned to Bemis Clysar for a solution. In a team effort, Bemis' Regional Sales Manager Peter Mucaria worked directly with field representative Ed Knight to offer Isbre a film that would shrink evenly over its distinctively embossed bottles. The EZ Gold polyolefin provides the upscale look that Loutitt knew Isbre would need to compete successfully in the U.S. market.
"As with most things in life, the devil is in the details," Smith says. "Clysar was able to engineer, and help us select, a film to meet a very specific need."
However, launching an imported beverage in a new market often can present unforeseen difficulties. Such is the case when Isbre needed to relabel more than 10 truckloads of 1-L bottles to meet a U.S. regulatory requirement. Fortunately, ActionPak has high-speed pressure-sensitive and shrink-sleeve labeling equipment at its Bristol plant and was able to seamlessly deliver the 10 truckloads of Isbre water to market. ActionPak occasionally has handled labeling duties when labeling equipment goes down in Isbre's Norway facility. When necessary, Isbre ships the labels along with the bottles, and ActionPak applies the labels to the bottles.
Logistics covered, too
ActionPak can take care of logistics for Isbre and other customers, as well as the packaging. "We do what makes the most sense for the customer," explains Smith. "Usually we route the traffic and arrange the outbound product directly with the customer's carrier of choice. Then the client pays the freight directly, with no markups on our part. In Isbre's case, we shipped to several destinations. Some loads went directly to their U.S. customers, but most shipments went to the Isbre distribution center in northern New Jersey. Isbre uses Kuehne + Nagle International AG as a clearinghouse for the imported product. Isbre chooses the carriers, and we work directly with them to get the truckloads out quickly and on time."
According to Loutitt, "We knew we needed a reliable partner to package our multipacks. We didn't have the equipment at our bottling plant in Norway. The primary package sold in supermarkets is the six-pack half-liter, so it was important to provide that package." Completing the secondary packaging in the U.S. also is less expensive right now than in Europe, because of exchange rates.
ActionPak continues to provide the multipacks for Isbre on an as-needed basis. Spring and summer are the busiest sales seasons for bottled water, and ActionPak covers the bases with its 75 full-time employees and up to 125 flextime workers. Demand in the U.S. for the Isbre product continues to grow—and that satisfies the retailers' thirst as well as Isbre's marketing goals.

Companies in this article