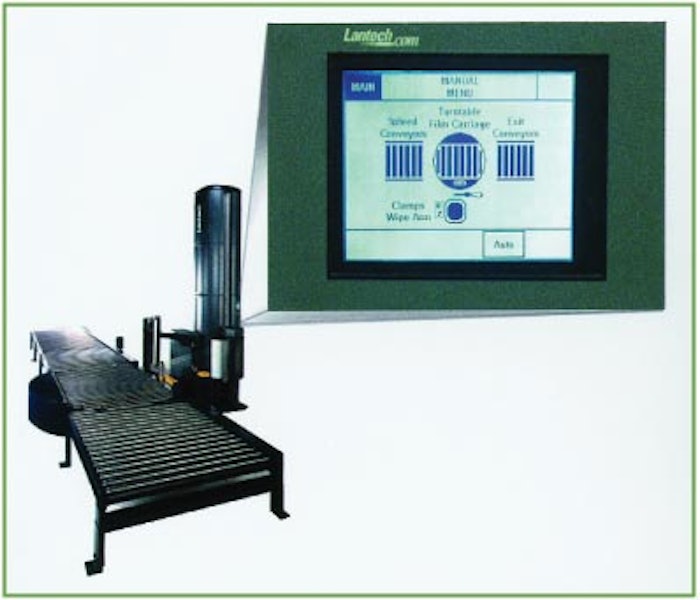 A new touchscreen panel from Unitronics (www.unitronics.com) is giving Lantech's (www.lantech.com) line of automatic stretch wrappers new, more flexible capabilities. Enabling operators to choose from five pre-programmed wrap patterns, the V290 touchscreen eliminates the need to use a laptop PC to change standard program times. The control upgrade includes a new ANSI-compliant signal light and horn for alarms, a complete alarm history, animated help screens,and combination starters for all motors to eliminate fuses. Free PLC programming software allows full access to the control's code for in-depth changes. Rockwell Automation (www.rockwellautomation.com) controls throughout the control enclosure reduce maintenance costs and time by making it easy for the user to find local replacement components.
"This control gives the customer digitally precise control, right from the touchscreen, of wrap patterns, overlap, and overwrap,"says William Caudill, Lantech product manager for automatic systems. "It also receives information from upstream equipment. The control's fault-tracking capability lets the user see operational trends as they develop and help screens keyed to displays that facilitate training and troubleshooting."
The touchscreen is a combination PLC/HMI and controls all machine functions as well as acting as the operator interface. It uses remotely located I/O mounted in the panel and communicates via a cable connection between the PLC/HMI and the I/O.
Caudill says Lantech chose this particular touchscreen for its performance, ability to store data, and ease-of-use. "PLC manufacturers typically charge for different versions of their programming software, and if you use a touchscreen you have to have the PLC software and an HMI programming software. This is fine if you already have a particular PLC and software on site, but a good majority of our customers do not. The Unitronics solution gave our customers both softwares in one easy-to-use program that is free and actually ships with each machine. It is also available as a free download from Unitronics."
With the implementation of the new control hardware, Caudill says Lantech decided to expand the functionality of the operator interface and give their customers access to the main machine program. This expanded access called LanLogix™ is exclusive to Lantech's automatic equipment.
"Normally in order to make program changes in a PLC program, you have to shut the machine down and hook up a laptop computer and make changes to the ladder logic," Caudill says. "We have structured the logic so that everything that would be required to customize the machine logic to meet a customers packaging needs is available from the touchscreen. This gives the user the ultimate amount of flexibility when it comes to factors like film choice and changes in pallet or load size."
All settings are password protected. There are actually three different levels of password access that customers can give to their associates so they can control who can make changes to the machine.
The V290 touchscreen was created based on Lantech's requirements and is now available from more than 100 distributor locations in the United States.
Companies in this article