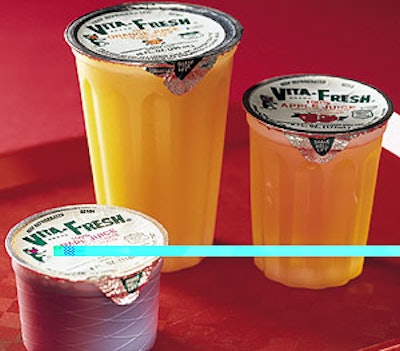 Pushing the envelope by making improvements on existing materials was the way two converters and their customers won Technical Achievement awards in the 2000 Flexible Packaging Assn. (Linthicum, MD) packaging competition. In fact, one improved material, a second-generation Wave Wrap™ from Phoenix Packaging (Maple Grove, MN), is so unique that its first customer is a food processor in Northern Ireland.
The other Technical award went to RJR Packaging (Winston-Salem, NC) (1) for its development of a new foil lidding material that improves seals when die-cut and sealed onto plastic cups of juices and drinks. Although its customers are not overseas, RJR's material is first sent to another converter that prints and die-cuts the material into individual magazine-fed pieces.
Called Universal Coex Lidding, RJR begins with 1.5 mils of aluminum foil covered by a water-based acrylic top coating. This is laminated to a coextruded coating of 4# of ethylene acrylic acid and RJR's proprietary sealant blend. This lamination typically replaces 1.5 mils of foil with a 3# solvent-based heat-seal coating.
In the case of the winning material, RJR supplies rollstock to Kraft Seal Corp. (Lake Forest, IL). There, it's printed by flexo in three or four colors and die-cut into lids with pull tabs. Kraft Seal now supplies the lidding to Cal-Tex Citrus Juice, Houston, TX, for its Vita-Fresh juices, and to Gregory Packaging, Newark, NJ, packer of the SunCup brand, both for lidding of plastic cups of juice.
Secondary converters like Kraft Seal had been seeking lidstock that would offer more consistent seal integrity and resistance to abuse from temperatures and transportation. Some of these packages, says Matt Koschak of RJR, undergo a freezing step that allows the plastic cups to expand and form ice crystals that can puncture both the lidding and even good seals to create leakers.
Total conversion
"We've converted 100 percent to this new lidding material," says Ron Peterson, vice president and general manager at Cal-Tex. "In our experience, it has eliminated leakers. While you can't ever say 100 percent, we've had no complaints since we began to use the new lidding."
Cal-Tex packs a variety of juices into 4-, 6-, and 8-oz cups and markets nationally to all 50 states, including Hawaii. So it was important that the integrity of the seal be maintained under a wide variety of environmental conditions. "Our packs were vulnerable to different issues, a long truck ride, high altitude or abusive handling at different locations," Peterson reports. This material was tested under all sorts of conditions, he adds.
Also important to Cal-Tex was that it not require closer tolerances on sealing equipment. "If the temperature ranges or dwell time ranges had been too tight, we wouldn't have made the change," says Peterson. "We definitely wanted a material that would be more tolerant, because our machines don't always maintain the temperatures and dwell times that are set."
That was also true for Kraft Seal. "The beauty of this is that it does process the same in printing and die-cutting as the previous materials," says company president, Joe Kraft. "We're not put at a disadvantage; so that turns out to be an advantage to us."
Especially important to RJR is the elimination of solvents. "When you looked out a couple of years ago, the heat-seal coatings were at best, MEK-based [methyl ethyl ketone], and some even used toluene," says RJR's Koschak. "But when we experimented with HAPS-free coatings [non-hazardous], we couldn't get consistent results. We looked at what made the coatings work down to the basic chemicals, and we started building from that." RJR declined to be more specific about its sealant blend.
Flaky micro sandwiches
Baguette sandwiches from a company called Rye Valley Foods in Northern Ireland are now wrapped in a new form of Wave Wrap (2), the microwavable paper overwrap from Phoenix Packaging (see Mar. '00, p. 64, or www.packworld.com/go/wave). Similar to what we call a pocket sandwich in the United States, the frozen product is a totally enclosed baguette that contains ham and cheese or some other filling and is designed for microwave heating.
While the first Wave Wrap had a metallized browning strip, it could overcook the product and turn the wrapper brown. The new version uses a demetallized finseal that eliminates both issues. And while the earlier version required the pouch to be opened for venting, Phoenix now applies a heat-sealable coating that releases the seal when steam builds up inside the package during heating. Finally, the new package allows the consumer to eat the product right from the package, a practice common in much of Europe.
But we'll have to take Phoenix's Jeff Laney's word on all this. Repeated attempts to contact Rye Valley Foods in Carrickmacross, County Monaghan, were unsuccessful. The wrap itself is 25# greaseproof paper laminated to 48-ga partially demetallized polyester. The paper is surface-printed flexo in three colors. Phoenix demetallizes the polyester in one step, then prints, laminates and applies coatings front and back in register and slits the web in a single pass, Laney reports.
And to give the package story a true Ned Devine appeal, Laney says that Rye Valley reformulated its baguette using a special dough conditioner that is supplied by—get this—its folding carton supplier! Just mysterious enough for a little Irish legend. That supplier, MSO Cleland (Belfast, N. Ireland), is also Phoenix Packaging's partner there, and it coordinates and ships the wrap and cartons to Rye Valley.
Laney admits it's unusual for an Irish company to have its packaging converted in Minnesota. "It does cost quite a bit to ship it there, and tariffs are involved, too. But the company is willing to pay for the quality," he concludes, no doubt with a Leprechaun-like wink.
Coffee pouch a masterpiece
Amgraph Packaging (Versailles, CT) was the converter for the final two awards, a Silver award for Printing Achievement for a Bella Crema instant Cappuccino pouch (3), and the sole Environmental Achievement award, a Silver, for its Edo candy pouch for Andalan Confections, Ft. Oglethorpe, GA.
The Bella Crema pouches were produced for Coffee Masters, Spring Grove, IL. The pouches are 48-ga polyester/10.8# white EAA/0.000285 aluminum foil/10.8# EAA/1.5-mil metallocene-based linear-low-density polyethylene. Supplied as rollstock, the material is surface-printed by litho in six colors, using electron-beam-cured water-based inks. The printing is covered by an ultra gloss lacquer that, like the inks, is cured by electron beam.
Interestingly, Tony Nowak, Coffee Masters' purchasing agent, says his company moved to litho printing from gravure. "Over the years, I felt that the quality of gravure had slipped. It seemed to become darker and shady. This litho printing came out crisper. And it saves us a little money," he says.
Each 0.75-oz pouch had been printed wide-web with gravure, so it didn't offer the company the flexibility it needed. Coffee Masters markets seven different flavors, and, says Nowak, "they don't all sell equally well." Plus the litho process offers faster turnaround time, he adds. Finally, he says the metallocene-based sealant permits the company to seal at lower temperatures on its Klöckner Bartelt (Sarasota, FL) packaging equipment.
Solventless candy pack
The EB-cured inks and gloss lacquer won the Environmental Achievement award for the Edo candy pouch (4), a new product from Andalan. "To stand out in the marketplace, the package had to look cutting edge," says Daniel Westcott, executive vice president for the candy company. For graphics, Westcott turned to his wife, Catherine, of Westcott Design (Chattanooga, TN).
"She did a tremendous amount of research and discovered Amgraph and its litho capability," Westcott says. "We realized they were a company that believed in technology and invested in it. Originally, we thought we might need to go with gravure printing. But the cost of cylinders would have killed the budget."
The pack is 1.2 mils of white OPP that's extrusion-laminated to a 70-ga metallized OPP. The metallized material was required for the soft candy inside to retain its moisture. The Edo pack is surface-printed in five colors and finished with the ultra gloss lacquer. It provides a gloss level very close to that of a reverse-printed film, says Mike Drab, marketing services manager of Amgraph. "We've had this water-based EB lacquer for about a year, " he says. "But we're not revealing anything about the company we work with on it."
To Daniel Westcott, Andalan achieves the look of gravure, but without the expense. "And we were able to do short test runs and even make package copy changes. That would have been almost impossible with the cost of gravure cylinders," he says.
Since its introduction almost a year ago, the moldable candy has been a marketplace success, Westcott says. And one of many competition winners, too.
Companies in this article