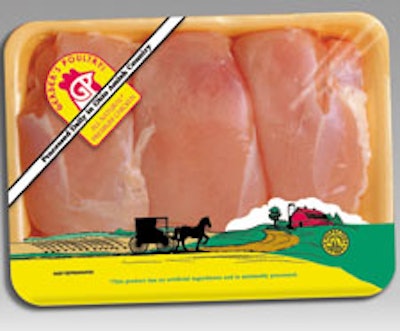 The 60-ga SSD310 film from Cryovac (Duncan, SC) is printed flexographically in seven colors by Robbie Manufac-turing (Lenexa, KS), including a primer that precedes the other six colors.
"We've had a lot of positive customer feedback since the switch," says Glenn Mott, purchasing agent at Gerber's. "And sales have risen about 30 percent, part of which we attribute to the new package appearance."
Until the new film arrived, graphics were extremely limited. Operators simply placed a printed insert on top of the trayed chicken before it went through the film overwrapper and steam shrink equipment. The insert contained copy like Gerber's name, safe handling information and a company logo—all of it looking decidedly less than scintillating from a consumer appeal standpoint.
In switching to preprinted film, Mott says Gerber's stayed with the same two overwrap machines, both from Ossid (Rocky Mount, NC). But unlike before, the firm now utilizes the machines' ability to heat-seal preprinted film in register. Mott also consolidated tray sizes of expanded polystyrene from six to three so that fewer trays and film rolls would have to be inventoried.
Mott estimates Gerber's pays about a 5% premium for the new package but says the return on that investment is well worthwhile.
Companies in this article