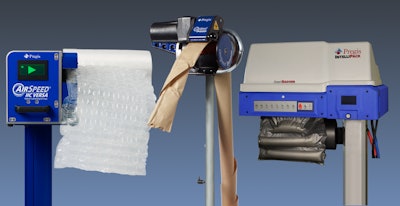 The PX3 system supports the company's entire line of protective packaging equipment including the IntelliPack foam-in-place line, AirSpeed air cushioning, and Quantum Geospeed paper units.
For the company's IntelliPack foam-in-place equipment, new cellular connectivity (vs. analog) for its SmartBagger unit allows a telemetry function to feed back real-time operating data to a remote PX3 dashboard.  Based on predetermined metrics, service personnel are given an early warning of a potential problem.
With its air cushioning equipment, the company's extensive database is able to predict when certain parts should be switched out before they fail. The objective is to be able to execute the service within minutes when the line isn't operating vs. having to call a technician after an entire line goes down.
Companies in this article