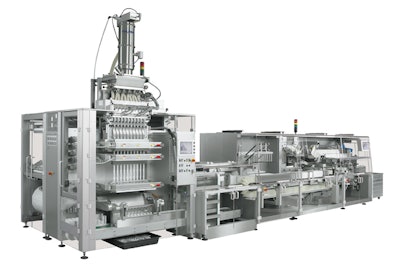 With its new StickPack-Line, MediSeal presents an optimal solution for primary and secondary packaging of powders, granulates and liquids in line. Also on display will be complete Track&Trace systems and serialization solutions by Seidenader and Dividella's TopLoading cartoner NeoTOP 804.
Mediseal and Dividella utilize scalable, high performance control technology from B&R Industrial Automation, PACK EXPO Booth N-4337, to achieve their impressive throughputs, reliability and flexibility.
LA600 SP-P1600 – complete StickPack-Line by MediSeal
The new stick pack line is based on the high-performance LA600 SP system and is capable of manufacturing and processing up to 1,000 sticks/minute and cartoning up to 100 cartons/minute. Consistent guiding of the sticks along the process chain makes it possible to package them in an organized way using the high-performance side-loading process.
High process reliability paired with excellent output quality ensures the customers high overall equipment effectiveness (OEE). The transfer system functions as a buffer zone, so the stick pack machine and the cartoner are not directly connected to one another. This allows the buffer to absorb small disruptions without causing downtime for the stick pack machine, ensuring efficient line operation.
Seidenader T&TSolutions: 360° inspection to read serialized code on round bottles
Many of today's pharmaceutical products are primary packaged in round plastic bottles. The requirement to verify a serialized code on the bottle makes it necessary to scan the entire body of the bottle after the labeling process. With this new Seidenader inspection solution, bottles can be read on-the-fly, capturing a 360 degree view of an un-oriented bottle.
Due to the small footprint of this solution, this station can be integrated anywhere on the packaging line; including the out-feed of a labeler, or in-feed of a bundler or case packer at speeds up to 400 bottles per minute. This unique inspection station plugs into our overall serialization line-level software like a simple bar code station, making for seamless data exchange and confidence when data integrity is of the utmost importance.
Dividella NeoTOP 804: TopLoading cartoner for combi-packaging
This cartoner was developed to pack different products in the same packaging with full automation. NeoTOP represents the optimal combination of great format flexibility – from 1 to 10 objects per package – and high-performance packaging. Using carton as a mono-material also offers considerable advantages as it is a high-performance, environmentally-friendly solution which results in low total cost of ownership (TCO).
Seidenader RIM: Robot supported inspection for small batches
Seidenader RIM is specially designed for small batches, such as for research and clinical trials, where automatic inspection is preferred – e.g. for toxic or highly potent products like cancer drugs, or when documentation is required. The core of the inspection machine is a six-axis robot arm which picks container by container from a buffer table and places them into appropriate stations for inspection. Upon completion of all inspections it separates defective from good products.
For more information, visit www.koerber-medipak.com.