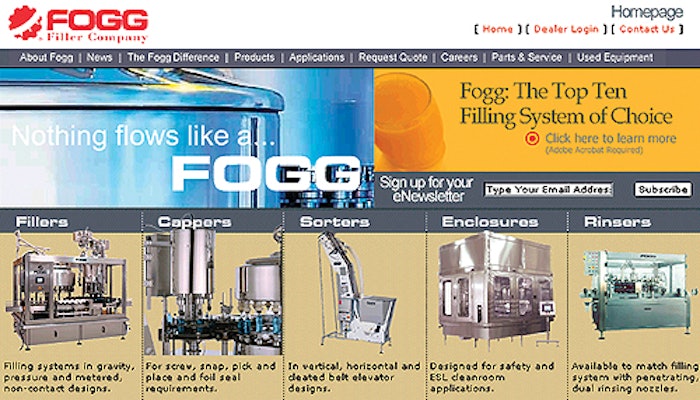 Adchem Corp.
www.adchem.com
New metric conversion tool calculates tape
variables including roll length, thickness,
and weight.
Diamond Packaging
www.diamondpackaging.com
Redesign includes customer access to the company's printed folding carton technical sheets.
Dickson Co.
www.dicksonweb.com
Upgraded site offers improved search engine and shopping cart for online ordering of the company's measuring and recording instruments.
FKI Logistex
www.fkilogistex.com
Redesign includes a Request for Quotation link for instant bid submissions on the company's materials handling systems.
Flexicon
www.flexicon.com
New multilingual site displays the company's bulk handling equipment with animations
and video.
Fogg Filler
www.foggfiller.com
Redesign offers Request for Quotation, photos, and details on the company's fillers, cappers, sorters, and rinsers.
Pretium Packaging
www.pretiumpkg.com
New site highlights the company's custom plastic packaging solutions with case studies.
Ropak Packaging
www.ropakcorp.com
New multilingual site has a search engine to locate details on the company's line of rigid
plastic containers.
Companies in this article