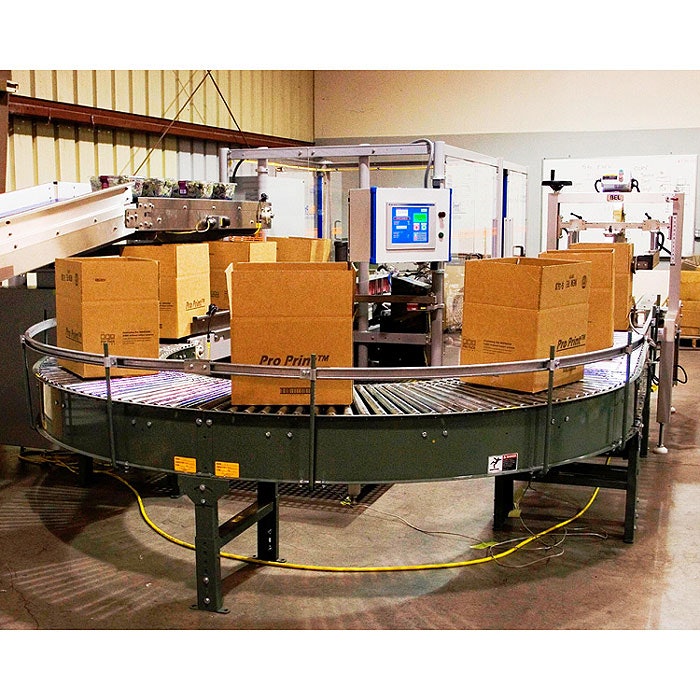 Case erector prints, too

Pro Pack Systems rewrote the book on case erecting/bottom sealing with its modular, recipe-driven, Intelligent Servo Module equipped, print-on-demand Pro Print™ EBS 15 machine. The company reported very brisk inquiry activity among packagers requiring frequent changeovers per shift performed by unskilled operators.

It prints all four sides of the case before it is erected, delivering far better print quality and higher resolution than is possible when printing cases after they are packed and traveling along a conveyor.

A big bonus is the ability to purchase a base model machine and upgrade in the field to fully automated servo changeover with a fast, simple retrofit package.

Stik Pak machines change over fast

Are stick packs one of the biggest trends in packaging? Judging by the interest in Ropak Manufacturing's latest Stik Pak system, that's a fact. It's the ideal system for food, beverage, OTC pharma and nutritionals packagers seeking to put any product they can dissolve into a half liter water bottle: vitamins, drink mixes, tea concentrate, analgesics, fiber supplements.

Stick packs also use inherently less material than a flat pouch or sachet, so their a sustainable choice for single serve, on-the-go portions.

Stik Pak is a recipe-driven, multiple-lane, continuous motion vertical form/fill/seal solution that uses 14 Intelligent Servo Modules to control dosing heads, sealing jaws and cut-off knives.

Unlike competitive machines, the stick pack diameter can be changed over in a few hours by plant personnel with minimal change parts and clear, easy to follow instructions. Stick pack length is fully automated, finger tip selected from the touch screen up to 8 inches.

Robot is big hit

Vertical and horizontal cartoning, case erecting & packing, robotic pick & place – Nuspark Engineering did it all and more. Their Intelligent Servo Module-enabled robotic case packer was a big hit at the Schneider Electric booth, drawing an undisclosed number of orders.

We overheard visitors from the cosmetics and personal care industries saying this was exactly what they needed in terms of envelope, product and package configuration, positive control of case opening, and freedom of movement. This robot was even the subject of a Pack Expo TV feature.

Nuspark's hallmark is exceptionally compact, efficient equipment. Integrating the equipment into a packaging system are Nuspark infeed systems that transport, collate, orient, buffer, stack and load all manner of products.

Adabot™ case packer is hot

Fallas Automation's R700 Adabot™ modular case packer got its name from the ability to add up to four robots using a single a single PacDrive™ automation controller – hence, "add" a 'bot. It also picks product on the fly.

This year, the highly rigid carbon fiber robot arm can handle 5 lb. payloads at up to 40 cpm in addition to 2 _ lbs. at up to 60 cpm and 2 lbs. at up to 80 cpm.

That's a much higher maximum payload than 3-axis deltas, which are better suited to picking individual packs. Adabot excels at difficult to grip and collate flow packed deli foods, bagged snacks and the like into various pack patterns and deep cases.

Casepacker is validation-ready

Serpa Packaging Solutions has made its all-servo P200 Balcony Casepacker even more compact, accessible and validation-ready with Intelligent Servo Modules and a Magelis HMI.

A patent pending, positive dual vacuum case erector feeds a vacuum assisted walking beam that presents squared up cases to a telescoping funnel for accurate product loading.

It's the perfect case packer for regulated industries, combining easy to clean and maintain balcony design with the small footprint and maintainability of servo modules. Serpa's validation services make it even easier to start up and own.
About ELAU

ELAU is the only company worldwide exclusively focused on the automation of packaging machinery. ELAU's PacDrive™ automation system offers the only automation platform purpose-built for the packaging industry.

ELAU equips over $1 billion worth of the world's best machines annually, with over 35,000 PacDrive systems already deployed in packaging machinery worldwide.

The market demands packaging operations that are more flexible and efficient to fulfill marketing, supply chain and global business strategies. ELAU innovations have enabled a revolution in mechanical, software and hardware modularity to deliver these agile packaging systems.

Now ELAU invites the worldwide packaging community to take modularity to the next level with our new PacDrive™ Intelligent Servo Modules.

Far more than just distributing the servo drive out onto the motor, servo modules enable plug-and-play modularity, literally plugging machine modules into or out of the packaging system to change functionalities, formats and capacities.

By vastly streamlining the networks, cabling, interconnects and electrical hardware, Intelligent Servo Modules smaller, simpler, more maintainable and reconfigurable.

For more information, visit www.elau.com or email info@elau.com.
Companies in this article