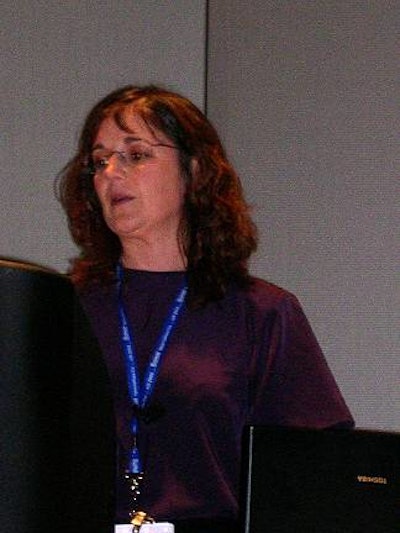 Glossy coatings and stunning package graphics often sell a product in that critical moment when a consumer makes a purchasing decision. That's no secret, especially to savvy manufacturers such as Microsoft, Procter & Gamble, Mars/Masterfoods, Bacardi Bottling, and The Scotts Company.
Representatives from these consumer packaged goods companies paid homage to the consumer as boss during a May 3 conference program entitled, Graphic Arts User Focus Session. The session was part of the e/5 UV&EB Technology Expo & Conference held at the Charlotte, NC Convention Center May 2-5. The five ereferences in the "e/5" portion of the show's name referred to ultraviolet and electron-beam coating curing technologies as efficient, enabling, economic, energy [efficient], and environmental.
The Graphic Arts session was sponsored by Paper, Film, & Foil Converter magazine, the National Assn. for Printing Leadership, and Packaging World magazine. The conference and expo was presented by Radtech International North America. Consumer packaged goods companies, converters, printers, and suppliers from around the world helped conference/expo attendance reach nearly 2길.
Representatives from the consumer packaged goods companies shared their experiences and offered insight on why and how their companies moved to ultraviolet (UV) and electron-beam (EB) technology to improve their printing and converting processes.
Gary Lietzke, Microsoft Corp., Redmond, WA, presented How Coatings Are Selected and Used for Performance. He said that when it comes to packaging for the company's Xbox product (see this article on Packworld.com), a paperboard sleeve with a matte green-and-black color scheme plus ultraviolet curing of the pack's carton helped provide shelf appeal at a reasonable cost. Various regional suppliers helped the packaging achieve a consistent look and allowed the company to use a carton without requiring a film overwrap.
Arden Haynes, a packaging engineer with The Scotts Co., Marysville, OH, discussed UV&EB Technology Helping to Drive Expansion in the Lawn and Garden Market. Haynes noted that in the past eight months, Scotts began using EB processing to produce some of its bags for soil products. That followed the company's use of UV coatings a couple of years earlier.
"UV and EB technology has enabled The Scotts Company to differentiate ourselves from our competitors in the market," said Haynes. "The technologies deliver gloss and edge-to-edge printing [that compares favorably] to surface printing, which is not as glossy," Haynes told PW in a follow-up interview. "Both methods provide us with a nice, shiny bag that has marketing appeal, but the advantage to EB curing is that it gives us an additional supplier so that we're not [limited to] a single supplier source." Haynes noted that Scotts is exploring the use of EB technology for corrugated cases as well.
Connie Williams, of Mar's Inc.'s Masterfoods USA, Hackettstown, NJ, explored Benefits and Characteristics of EB Coatings for Consumer Packaging. Williams discussed previous ink problems related to scuffing for snack foods. New packs for Skittles candy and "Cookies&" cookie bars were cited as recent examples where EB-cured coatings improved package appeal. Other products, like chocolate and Uncle Ben's rice, were updated with a laminated coating to help combat odor absorption.
P&G responds to consumers
Dennis Ruehl, package development, fabric and home care, Procter & Gamble, Cincinnati, OH, addressed End-User Benefit for Film-Laminated Cartons. He noted that "the consumer is our boss. We conducted consumer research that indicated the main problem with our product was moisture that caused powdered laundry detergent to clump." The company provided moisture protection to the carton during the gravure printing process, relying on an EB system to bond the acrylic-oriented polypropylene.
"The benefits were clear at the first moment of truth on the shelf," said Ruehl. "The film coating provided a 60-percent improvement in gloss, and moisture protection that increased by 50 percent." (For more details on this application, see this article on Packworld.com).
Bacardi's consumer focus
Maintaining a consumer focus when developing new products and packaging is critical to the success of Bacardi, said Yousef Zaatar, vice president, product manufacturing development, Bacardi Bottling Corp., Jacksonville, FL.
The Bacardi executive offered the following insights during his presentation, New Products in the Liquor Industry:
• Sixty-five percent of consumers will purchase a product if they pick it up off the shelf. "The key is getting them to pick it up," he said.
• Bacardi is evaluating figure-shaped bottles and alternative materials for potential product introductions.
• Packaging costs continue to rise. "For every packaging dollar we spent 10 years ago, we spend $4 today," said Zaatar.
• Counterfeiting isn't a major problem in the United States, but it is in Latin America and eastern Europe. "The more premium the brand, the greater the counterfeiting problem," he said. "As soon as we find a solution to one problem, counterfeiters find a way to copy our packaging."
• "Consumers perceive glass to be a premium package, so I can't foresee our premium liquor in PET," said Zaatar. That said, he noted that change is constant. To wit, he said, "A few years ago I wouldn't have imagined anybody buying water in plastic bottles."
• Consumer focus group testing plays a key role in Bacardi product and packaging decisions.
Additional opportunities
An e/5 2004 "first" gave attendees the opportunity to see video of actual consumer focus-group testing where consumers were asked to evaluate the appeal of packaging converted with UV and EB materials. Most of the opinions expressed pointed to the appeal of the shiny quality of the UV and EB-cured coatings, which gave the impression of newer, fresher, and better-protected products inside.
Attendees also had a chance to explore a 5ꯠ sq' area featuring the UV/EB TechCell, a "virtual store" filled with hundreds of products whose packages were manufactured via UV and EB curing technology. With 138 exhibitors, e/2004 was said to be the largest exhibit floor ever for a UV/EB curing show. The next UV&EB Technology Expo & Conference is scheduled for 2006 in Chicago.
For more information on the e/5 UV&EB Technology Expo & Conference, visit www.radtech.org.
Companies in this article