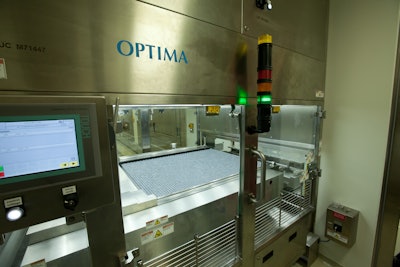 Lachen, Switzerland-based Octapharma was established in 1983 and is now one of the largest manufacturers of human proteins in the world. Its products, developed from human plasma and human cell lines, are used to support the treatment of patients in 100 countries in the therapeutic areas of hematology (coagulation disorders), immunotherapy (immune disorders), and critical care.
These high-value products, produced at Octapharma's five state-of-the-art production facilities in Austria, France, Germany, Sweden, and Mexico, depend on aseptic filling and lyophilization (freeze-drying) systems.
In 2002, when the Food & Drug Administration announced a significant new initiative—Pharmaceutical cGMPs for the 21st Century—that encouraged the early adoption by manufacturers of new technology advances in human drug and biological drug products, Octapharma was prompted to consider new concepts to decrease contamination risk and optimize product savings.
In 2010, the company decided to invest in a new line, which would be duplicated in several of its plants, that could reduce product loss, provide aseptic filling, simplicity of operation, and flexibility for small-batch products, and minimize downtime between batches. Or, in other words: KISS—keep it simple and sterile.
To engineer and integrate the required equipment, Octapharma chose turnkey supplier Optima Pharma GmbH, which provided a Metall + Plastic barrier isolator, an aseptic filler, and several Klee freeze dryers.
Says Dominique Sierakowski, Head of Corporate Pharmaceutical Production at Octapharma, "We must remember all the time that all the decisions we make will impact the business for the next 15 to 20 years on a daily basis for quality, productivity, operating costs, and working conditions for our personnel. The options proposed by the new technologies fit perfectly with our expectations, and the project was carried out by people with a high level of expertise."
High flexibility for shorter runs
The new line at Octapharma fills glass vial sizes from in sizes up to 100 mL and operates at a speed of 3,600 vials/hr. It begins with a washing machine and a depyrogenation tunnel that sterilizes the vials. The filling and closing area immediately following the depyrogenation tunnel is housed in a Metall + Plastic isolator. Peristaltic pumps fill the vials before the insertion of the stoppers takes place. Thereafter, the vials are formatted and transferred automatically by a mobile cart under laminar flow to Klee freeze dryers. After completion of the freeze-drying process, the vials are capped. With this final step the vials are closed.
While Sierakowski says isolators are typically recommended for long runs of large batch sizes that use the same product and same format, Octapharma chose to use it for shorter runs of multiple products and formats, with high flexibility and productivity requirements. He says, "We decided to implement isolator technology due to the proven sterility assurance level and better control of contamination risks, but also because this is the current trend within aseptic processing and very probably the future expectations of auditors.
"Economical operation of the system is achieved by reducing the running cost on a daily basis, with less floor space, less cleanroom area, less gowning, and less monitoring required.
"Another important point for the economic impact is the comfort for personnel. By using isolators, operators have better working conditions. As a result, we expect higher motivation and less staff turnover—an otherwise common situation due to demanding working conditions within aseptic areas. This avoids additional costs for training and qualification of new personnel."
One of the features of the machine that makes the isolator more economical for shorter runs is its use of a catalytic aeration process that allows for considerably shorter H2O2 decontamination cycle times. With the Metall + Plastic isolator, it takes approximately two hours to decontaminate the surfaces in the interior of the filling and closing machine, versus the five to eight typically required in the past.
Other "clever intricacies" of the system, as Sierakowski refers to them, that reduce downtime include the replacement of conventional manual adjustment of changeover parts for format changes to automatic servomotor-controlled adjustment and two independent stopper sorting bowls each running a different stopper size. The isolator thereby remains closed even when a format change between two different bottle and/or stopper sizes is performed.
"When parts have to be brought into the sealed isolator—for instance, materials for environmental monitoring processes—a material transfer lock with a fast VHP [vaporized hydrogen peroxide] provides maximum flexibility," Sierakowski says.
He adds that between batches, downtime is reduced by having the dosing system positioned outside of the isolator and by using a disposable aseptic filling system, which together reduce changeover time of contact parts to 15 minutes.
Reduced product loss assured
Another key to the economics of the system is its ability to reduce product loss. The aseptic filler used by Octapharma uses peristaltic pumps linked to load cells and a 100% Integrated Process Control (IPC) system that ensures the accuracy of the fill. IPC involves checkweighing with feedback for automatic adjustment of the metered quantity to reduce overfill and compensate for any fill weight drift over time.
Says Sierakowski, "If we consider product loss, it is minimized due to the accuracy of the filling system and the special mode for starting and ending the filling."
In addition, a stopper resetting process minimizes rejects and maximizes product usage. Explains Optima Pharma Technical Sales Director Matthias Poslovski, "If a stopper is not set during regular production, the resetting station makes sure that the stopper is set and that the vial, with high-value product, is not rejected and subsequently lost. These stations are only active when a missing stopper or cap is detected."
After filling and stoppering, vials are "formatted," or positioned in such a way to allow for the maximum number of vials to be positioned on the shelves within the freeze dryers. Once vials are formatted, a mobile cart transfers them from the filling machine by way of a loading corridor and loads them into the freeze dryer through a small "pizza door," shelf by shelf. After freeze drying, a second mobile cart unloads and transfers vials via an unloading corridor on the back side of the freeze dryers to a deformatting table.
Partnership makes the difference
With the aseptic filling line scheduled at presstime to be up and running by the beginning of 2016, Sierakowski credits the success of the project to the partnership between Octapharma and Optima. He says, "Throughout the years of design, construction, and tests, first at suppliers and now at site, a huge amount of successful teamwork has been achieved, including members from Octapharma and Optima, culminating in the expected results for filling accuracy and flexibility.
"One challenge in this project was to harmonize the equipment, processes, and documentation between the three supplier parts—filling line, isolator, and freeze dryers— and also the process between the different Octapharma sites. This challenge has been clearly achieved. This successful harmonization fits the needs perfectly for growing companies like Optima and Octapharma." c
Companies in this article