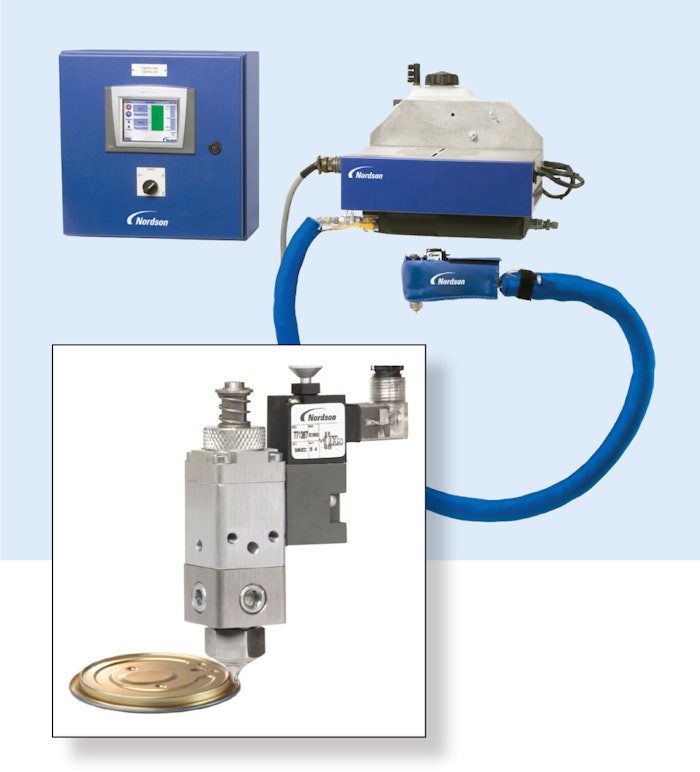 Nordson Corporation introduces the AccuLiner™ Compound End Lining System. The AccuLiner system is an integrated solution that provides precision and accuracy in end-lining compound applications for metal cans, helping manufacturers reduce downtime and save on material costs.
The system incorporates the AccuLiner Compound Gun and Eclipse™ EPC-15 controller, and provides maximum performance especially when used with the AccuLiner Temperature Control Unit (TCU) for waterborne compounds.  As an integrated solution, the AccuLiner system provides:
• Better shot-to-shot performance with less variation in applied weight – providing material savings, quality improvement and fast return on investment.
• Enhanced process control – consistent output pressure through the gun of +/- 1 psi eliminates pressure drifts or spikes.
• Longer service life – resulting from durable, high-performance seals, special carbide needle and stainless steel nozzles.
• Constant temperature control of the compound by +/-2° F (with the AccuLiner TCU) – ensures steady material viscosity, taking accuracy and repeatability to a higher level.
• Single- or dual-gun configuration – compact size provides easy installation and minimizes space requirements.
"Temperature control is a key element of the AccuLiner system," explains Mark Novotny, global marketing manager for Nordson Container Systems.   "Controlling and keeping compound material temperatures consistent yields much higher efficiency.  Even the slightest temperature increase can cause weight increases that waste material waste and increase operating costs.  Also, at the higher material temperatures, the compound has a tendency to sling out into the curl further, resulting in placement issues. Excess weights can also cause blistering during the drying process."
Designed for the application of waterborne materials, the AccuLiner TCU – which can accommodate single-or dual-channel gun configurations – controls the temperature of the end lining compound material by +/-2°F.  As a result, manufacturers can achieve:
• Significant reduction in weight variances for improved cPk values
• Reduced material waste, lower operating costs and better product quality
• Easy set-up, maintenance and operation
AccuLiner Compound Gun Provides Accurate, Consistent Deposition
The AccuLiner TCU provides optimum performance when used with the AccuLiner Compound Gun. The electro-pneumatic gun provides precise cut-off and adjustable flow control for accurate material deposition and consistency, shot-to-shot.  Its compact size enables efficient heat transfer for superior temperature control. A full array of nozzle sizes is available to meet many different application requirements.
Other features include:
• Fast air-powered opening and closing delivers accurate, repeatable application with clean cutoff.
• Variety of nozzle sizes available, ranging from 0.4 to 1.5 mm
• Tapered, concave nozzle design ensures precise placement of material
• Integrated needle stroke adjustment to achieve optimum material deposition
• Pre-mounted solenoid provides superior open-close performance
• Easy-to-install onto compound lining machines
• Fast and easy to maintain
• Corrosion-resistant parts compatible with waterborne compounds
Eclipse (EPC-15) Controller
The AccuLiner system uses the production-proven Eclipse (EPC-15) timer/driver technology to control deposition.  The EPC-15 controller uses time-based pattern placement for precise timing in a selectable range of 1 to 1000 milliseconds. It can be configured to operate single- or dual-gun configurations and is easily integrated with the AccuLiner TCU. 
Other features include:
• Simple, easy-to-use operator interface
• Compact size, easy to mount/install
• CE approved
 
Companies in this article