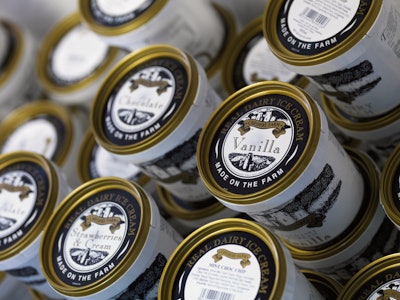 Award-winning U.K. ice cream producer Cheshire Farm has continued the investment in its modern factory with the recent installation of a metal detector and conveyor system from Lock Inspection Systems.
The family-run business produces over 2,000 L (528 gal) of ice cream per hour, in more than 30 different flavors and a range of tub sizes from 110 mL (3.7 oz) to 5 L (1.3 gal). The chosen end-of-line Lock Insight system, which replaced an outdated metal detector, meets the challenges of this very specific manufacturing environment.
"Accurate inspection of ice cream can be difficult because the conductive signal varies according to the temperature of the product—even slight changes during production will make a difference," explains Rob Gray, UK sales at Lock. "With temperatures of around minus six degrees Celsius at inspection, any unexpected rise or fall in ambient temperature may change the temperature of the ice cream and alter the conductive signal that it generates. Our sophisticated technology can track these fluctuations and make the necessary fine adjustments to ensure a consistently high level of contaminant sensitivity."
Installed to inspect the filled tubs of ice cream, the Insight metal detector and conveyor system also benefits from user-friendly data software that can store and recall over 100 product settings, allowing it to efficiently adapt to a range of different sizes.
Says Graeme Fell, production manager at Cheshire Farm, "We needed to update our detection system and chose Lock's bespoke system based on its reputation for outstanding performance, reliability, and understanding of specific manufacturing issues. It's now a key part of our factory."
Cheshire Farm's Real Dairy Ice Cream is made using fresh, whole milk and cream that is produced on the farm. Established in 1986, the business was developed as a way to create added value from the milk produced in excess of the farm's quota restriction. Its award-winning ice cream is now supplied to over 900 pubs, restaurants, hotels, and retail outlets across the northwest of England.
Companies in this article