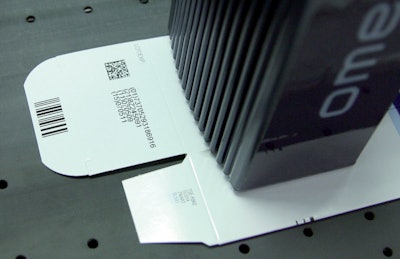 In February, August Faller KG began running an integrated production line at its Waldkirch, Germany facility that codes, serializes, prints, and verifies pharmaceutical packaging for the world market.
The line includes an Omega 72i DoD ink-jet printer and eco-friendly UV LED curing system Smartcure 75/400 for folding carton production designed to meet the special demands of pharmaceutical folding carton printing, coding, and quality verification with wastegate control for medicinal product packaging.
With this equipment, supplied by Atlantic Zeiser Group, Faller codes, serializes, prints, and verifies pharmaceutical packaging for the world market and renowned pharmaceutical producers. With the printing, serialization, and coding line, variable data is applied in plain writing, as a 1D bar code as well as a 2D DataMatrix code. Directly after printing, an Atlantic Zeiser Vericam camera-based system checks the quality of the grading and, if necessary, triggers a wastegate, which automatically segregates products of unsatisfactory quality. That helps ensure a zero-fault rate in production.
In this case, the demands of pharmaceutical customers are special, in order to fully comply with country-specific marking standards for the purpose of product identification and product traceability. One particular project concerns printing and coding of medicinal product packaging for the Chinese market. For this, apart from Chinese writing, a defined bar code must be applied, which contains an authentication code for product tracing, a serial number, and a product code, which follow the Chinese NDC (national Chinese medicine code). The Omega printer and camera-based quality control is integrated into Faller's folding carton production line. Efficient coding and serialization of small runs and batch sizes with high flexibility of the printing system are feasible due to the degree of variability provided by the DoD printer. As a result of the possibilities of individual printing with variable data in divergent forms Faller's pharmaceutical customers can also reduce their inventory of preprinted folding cartons as they can be coded and serialized during the packaging process at the various locations of medicinal product manufacture. This production step is already covered in the fabrication of the flat folding cartons at Faller.
The 360-dpi requirement is necessary due to the small dimensions of the surface to be printed on each individual folding carton. Four different pieces of information: serial numbers, authentication and product codes as well as other variable data must be applied individually and machine-readable on this surface within the 1D bar code.
Specific characteristics for pharmaceutical packaging, required by the European Union, can now be applied via bar codes, serial, or random alphanumeric sequences or via 2D DataMatrix codes on the folding carton. Printing of images and the personalization of the folding cartons for special target audiences or applications such as names or addresses are also possible. With its new printing technology, Faller meets the demands for readability of codes (grading) and the integration of a wastegate function for substandard products. The camera system verifies the codes and checks the correctness and quality of the printed information.
Armin Rambach, project manager, August Faller KG, comments: "Originally we were looking for a new coding and printing option, because extremely variable coding, serialization, and printing of medicinal product folding cartons with genuine writing and bar codes were demanded by us. We needed to apply serial numbers, authentication, product codes, and other variable data on the cartons. That set us big challenges. We wanted to have an efficient and at the same time more 'future-proof' system. With Atlantic Zeiser, we found a comprehensive solution in order to meet the various requirements for print quality, speed, and data exchange. Today we have implemented this and with this high-speed line we are producing high-quality folding cartons, which comply with the current regulatory demands."
Article supplied by Atlantic Zeiser GmbH