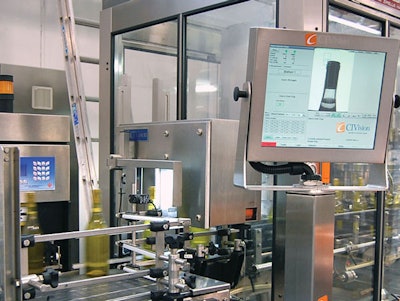 When The Wine Group was planning a new filling line for its Concannon Vineyard in Livermore, CA, key performance criteria included complete, accurate inspection of bottle fill height, cork/cap presence, cork insertion depth, capsule presence, and label presence and positioning. The winery wanted to be able to closely analyze and quickly correct any filling, capping, or labeling defects that were identified.
The goal was to implement a consistently reliable automated machine vision system that would eliminate as many manual labor and human vision inspection requirements as possible. Kent Vos, senior project manager for The Wine Group, explains, "An automated vision system affords much greater repeatability and accuracy than manual inspection/rejection operations."
After evaluating available systems and suppliers, The Wine Group chose CIVision (www.civision.com) to design and install an automated vision system at the Livermore facility. This choice, according to Vos, was based both on cost and functionality. He says, "Originally, CIVision was quoting only on the label inspection part of the project. But when CIVision specialists looked at the entire project, they recommended grouping the various inspection subsystems in such a way that gave the result we wanted and also worked with our existing line layout."
Following preliminary meetings with The Wine Group and an analysis of the new line, CIVision specialists determined the best solution would be provided by its LOMAX® P high-speed packaging inspection system. This versatile, stand-alone system can coordinate up to 10 cameras and offers many equipment options, including a mix of black-and-white or color cameras with a range of resolution choices for each camera.
CIVision's CIVCore® system software is accessed through a large touchscreen display window that lets the operator view each inspection image. The screen can be tailored to individual preferences, zooming in or out or overlaying various tools that display only the inspection elements the user is most interested in seeing. And at any time, a finger touch can call up a total overview of an entire inspection run. Another touch can call up only images of failed packages, allowing instant feedback about line problems.
Multiple views
The Concannon installation includes two inspection systems. System One begins with Station One—a single camera mounted in a NEMA 4X enclosure inside the winery's filler at the discharge. Station Two consists of a single camera mounted in a stainless-steel enclosure above the conveyor downstream of the capper. This camera mount is adjustable because the line is designed to fill 375-mL, 750-mL, and 1.5-L bottles.
Station One inspects bottles for fill level and alerts the system software when it detects over- or under-filled bottles. Mis-fills are automatically tracked and removed from the line by a soft-eject device onto a secondary conveyor. Station Two inspects for cork presence/absence and cap skew. Defects at this station also are automatically reported and rejected downstream by the same soft-eject device.
System Two consists of three independent cameras that conduct capsule and label inspections. The first camera is mounted at the labeler's infeed starwheel and inspects for the presence and height of the capsule placed on the bottle. A high capsule signals that the capsule is not completely seated. If a defect is detected at this station, no labels are applied.
The second and third cameras of System Two are mounted inside the labeler in height-adjustable, stainless-steel enclosures. These cameras inspect front and back labels. Improperly applied labels detected by these cameras are automatically reported and rejected at a second soft-eject station downstream of the labeler.
The 600 Series soft-eject systems are supplied by FT System (www.ftsystem.it), Alseno, Italy. These units use a series of "fingers" to gradually shift bottles securely to secondary lines.
Performance improvements
The new automated vision system offers Concannon excellent repeatability and accuracy to ensure that imperfect bottles do not get into the marketing stream. At the same time, the ability of the CIVision system to move rejected bottles and redirect them to a separate area enables Concannon operators to do closer human assessments and diagnoses of unique and systemic packaging problems.
Vos, who supervised the installation of the new line, says, "We had not used machine vision in the past on such a scale. This system does everything we asked for and also has capabilities we haven't tapped. Yet, it is basically a simple system, which makes it a plus for our operation."
Companies in this article