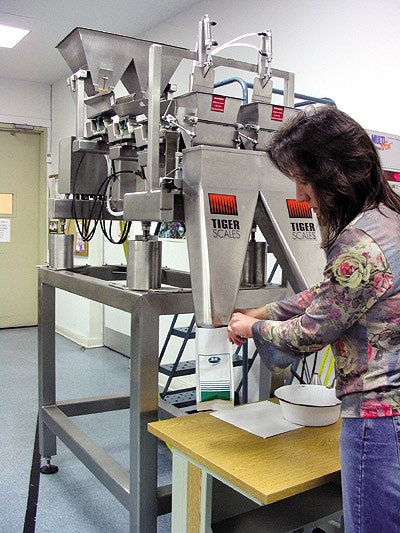 True or false: An ounce of begonia seeds can be more expensive than an ounce of gold? True according to Olaf Bosman seed operations manager at Downers Grove IL-based S&G Flowers a division of Syngenta Corp. Basel Switzerland.
With that in mind it's no wonder S&G Flowers opted to automate its seed weighing process last October by adding a V-Mini twin-head triple-pan scale system from Weighpack Systems Inc.
"In some cases a flower seed can cost as much as 20 cents each" says Bosman. The S&G Flowers facility buys seeds in bulk from companies around the globe and then repackages them. "Our customers are big greenhouse growers who grow plants for retailers such as Wal-Mart Lowe's and Home Depot. Those big box stores also sell tomato and pepper plants so we supply some vegetable seeds as well. We sell to the United States Canada and Mexico."
S&G Flowers typically receives seeds in large plastic bulk bags in quantities from 1 to 10 million. "We sell by count" says Bosman. "But we do a lot of weighing then convert that back to a count. We know how many seeds represent a certain weight. So the accuracy of weighing machines is important. Our seeds range in size from a cucumber our largest seed to the smallest a begonia seed that is smaller than a mustard seed. To give you an idea one ounce of begonia seeds would represent about three million seeds. Depending on what class or series of begonia that ounce can be more valuable than the price of an ounce of gold."
Short intense packing season
S&G Flowers coats the seeds so they become like pellets making them easier for growers to handle and plant. Seeds are stored at the facility in coolers that are kept at 45ºF and 30% relative humidity to help slow seed aging.
Bosman says that 70% of the seeds are packaged between August and October. During that three-month period packaging operations run 12 hours/day five days/week. Packs are stored and then shipped in November and December in time for growers to plant them for the following growing season. Each new season's production is based primarily on last year's sales.
Bosman says packages typically range from 500 to 25 seeds per pack with weights varying between 10 g and 500 g. The Weighpack machine is used most often for larger seed packs he notes. The plant also uses a couple of older weighing machines.
For years workers at the Downers Grove plant packaged by hand. "Our runs are short and we operate at slow speeds" he says. "Two years ago all the seeds were packaged by hand on scales. We still do some of that."
With the Weighpack system dry seeds are poured into a hopper at the top of the machine. An operator presets the desired package weight on the machine's control panel. That product amount is released from the hopper onto three horizontal vibratory trays each mounted lower than the previous tray. Seeds gently vibrate from one tray down to the next.
"The trays regulate the speed to give you a certain flow" explains Bosman. "It dribbles seeds very slowly onto the last pan so you get accurate weighing." That's done in a weigh bucket under the third tray. When the weight is obtained for the pack the seeds are released from the bucket through a funnel or chute into a bag held below that device by an operator. To do this the operator depresses a foot pedal.
Flex-Pak supplies three different premade pouches for S&G Flowers. Two are three-side-sealed pouches and a third is a four-corner-sealed side-gusseted pouch. All three use the same 3.5-mil structure that includes polyester/low-density polyethylene/foil/linear LDPE laminate. The LDPE tie layer is white to provide an attractive backdrop for S&G's logo which is flexo-printed in two colors plus varnish.
S&G Flowers uses a Zebra Technologies printer to print product information weight lot number and in some cases an expiration date onto a pressure-sensitive label. The label is applied to the bag by hand after an operator takes the filled bags to an older L-bar or band sealer to heat seal the bags shut.
Weighing in on savings
Why did S&G Flowers select Weighpack equipment? "I liked the openness of the machine's design" notes Bosman. "It's very easy to get to everything. And unlike companies that sell a standard machine Weighpack's machine is very flexible. It's very easy to use the same control panel to run multiple machines which is something we're looking at for the future."
The twin-head machine gives S&G the capability to package two products simultaneously one from each of two lanes. The hopper at the top of the machine is split to accommodate two seed types. Each of the two lanes has the three vibratory pans that operate in the same way. Two operators would then hold open bags for filling. Since S&G Flowers purchased the Weighpack machine near the end of last season's packing period it hasn't taken advantage of this option yet but it may in the future.
The Weighpack machine benefits the seed packer in three key ways: labor savings reduced inventory and less product giveaway. "We purchased the Weighpack machine to reduce labor costs and it's replaced four full-time seasonal workers" says Bosman.
By automating the process S&G Flowers can also bring in seed later in the season. That means the expensive product doesn't have to sit in inventory quite as long. "One of the biggest issues we have in our market is that we buy a lot of seed then keep it in storage until we pack it then ship it in November and December. Our customers don't start ordering until October" says Bosman.
Although S&G Flowers didn't calculate seed giveaway before and after adding the Weighpack machine he says there's no question the Weighpack's accuracy will reduce product giveaway.
"I calculated that the Weighpack machine will pay for itself within 18 months to two years even in the few months we run it" says Bosman. "That calculation considers labor savings and carrying seed inventories for a shorter time—that's cash. We're happy with the addition of the equipment."
So satisfied in fact that he says when the plant's runs are sizable enough to justify the investment "we'll look at buying more Weighpack machines and eventually put in a bagger underneath the Weighpack to automate the filling process."
Companies in this article