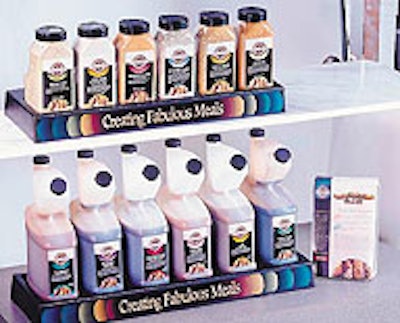 Used by supermarket service meat counter personnel, the container has a marked volumetric reservoir molded in its top. The bottle reservoir allows store operators to easily measure and dispense 3 oz of the marinade per pound of fresh meat. The container is molded by Container Mfg. (Middlesex, NJ) and provided through distributor C.L. Smith & Co. (St. Louis, MO). This style of twin-neck (33-mm) container is often used for petrochemical products like motor oil additives, an application that provided the inspiration to Excalibur vice president Tom Hornstein. He says it was a challenge to track down a container in the size the company wanted.
The shelf-stable Tip-N-Pour marinade bottles are displayed on supermarket meat counters in a custom-molded plastic rack. The store supplies the fresh meat or seafood, and Excalibur supplies the marinades. It also markets smaller versions to consumers in liquid or dry form, as well as a resealable heavy-duty zippered bag and a pressure-sensitive "branded" label to apply to the bag. The meat marinates on the trip home.
Graphics and product information are provided on p-s label stock, flexo-printed in six high-gloss colors plus UV coating on 60# semi-gloss paper from Accent Tag and Label (Des Moines, IA).
"We wanted to make the program as simple as possible," says Hornstein. "The prior bottle was too labor-intensive as the clerks were instructed to wash out the pumps daily." The pump had also delivered only 1 oz per stroke. The new bottle's smaller size also keeps the contents fresher, says Hornstein. It's also more sanitary and, Packaging World is told, with the elimination of the pump, represents an overall cost savings. (RL)
Companies in this article