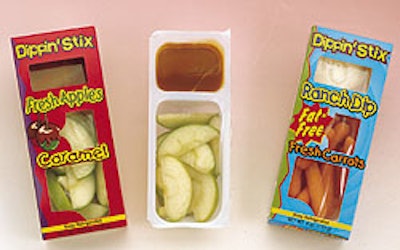 What better street in Rochester, MN, than Enterprise Drive to house a firm as driven and enterprising as Reichel Foods? Founded in March of '97, the company has wasted no time in establishing itself as a supplier of packaged snacks modeled after the incredibly popular Lunchables brand snacks from Oscar Mayer.
First it was nacho chips and salsa, which need no refrigeration. Then it was packages of luncheon meat, cheese, and crackers with a 60-day refrigerated shelf life. Next the innovative firm expanded into Dippin' Stix: 4-oz refrigerated carrots or celery packaged with a flavored dip. Now comes an even more impressive feat of packaging: fresh sliced apples in portion packaging that provides a 36-day refrigerated shelf life. This has been achieved thanks to a combination of barrier materials, modified atmosphere, and lessons learned from experimentation.
"Part of what we do with our apples is proprietary," says company president Craig Reichel. "We spent a ton of time on R&D."
Certain aspects of apple processing are not secret. Reichel uses a liquid dip called NatureSeal from Mantrose-Haeuser (Westport, CT). Described as a special rinse of minerals and vitamins, it causes an enzymatic reaction that retards oxidation on the surface cells of the cut apples, thus preventing browning during the 36-day refrigerated shelf life.
"We had already reached a 21-day shelf life on apples by the time we came across NatureSeal," says Reichel. Adding the NatureSeal rinse to the process permits the extension to 36 days. "We'll probably get to 40 days before too long," Reichel adds.
Equipment used
In business for just four years, Reichel Foods has seen its collection of packaging equipment grow steadily. The key components that got the firm started were an in-line tray sealer (see sidebar, p. 28) and a cartoner from Dimension Industries (Maple Grove, MN). Food components—luncheon meat, crackers, cheese, peanut butter, jelly, pizza bread—are loaded semi-automatically into preformed three-compartment trays, which are then evacuated, backflushed, and lidded on the in-line tray sealer. Cartoning is the final touch.
When the sliced apples were being market-tested, they were packed in the same three-compartment tray on the same in-line tray sealer. A two-compartment tray, one for apples and one for dipping sauce, would have made more sense, but the heat-seal tooling on the in-line tray sealer wasn't designed for a two-compartment tray, and change parts would have been too expensive. Besides, says chief financial officer Tom Wiechmann, "We first wanted to prove that apples were going to sell." It made more sense to do the proving, he adds, with equipment and tools that were already in place.
Encouraged by consumer reaction to its Dippin' Stix apples, the company installed a Tiromat horizontal form/fill/seal system from Convenience Food Systems (Avon, MA) with an eye toward national rollout. This rebuilt machine (see April, p. 60, or packworld. com/go/reichel) is now used to thermoform two-compartment trays for Reichel's apples and other fresh produce. That frees up the in-line tray sealer for the non-produce snack kits that got the company started in the first place.
Materials are crucial
Materials play a key role in moving Reichel's apples to market. Supplied by Curwood (Oshkosh, WI), the forming web incorporates Curwood's patented EZ Peel® technology. The structure is what Curwood describes as a "thermal lamination" of 18-mil high-impact polystyrene married to a multilayer coextrusion that includes ethylene vinyl alcohol/ethylene vinyl acetate/polyethylene.
Lidding material for the apples is a five-layer structure supplied again by Curwood. It's a 50-ga oriented polypropylene that's extrusion laminated to a coextrusion of low-density PE/metallocene-based linear LDPE/ EVA. An antifog additive is also included.
Apple packaging at Reichel's Rochester plant is preceded by semi-automatic slicing and then immersion in a bin of the NatureSeal solution. The bins of apples are then wheeled to the Tiromat machine, which forms two-compartment trays seven across with each cycle. Operators on each side of the forming bed load the trays volumetrically, not by weight. Each thermoformed cavity is packed until full. Typical speed is about 80 trays/min.
Next the trays pass beneath a depositor, a volumetric piston filler that places caramel sauce in the sauce compartment of each thermoformed tray. Supplied by R.E.B. Inc. (Menominee, WI) and mounted on wheels, the depositor can be moved from the Tiromat f/f/s machine to the in-line tray sealer, depending on which one is in production. The in-line tray sealer handles trays eight across, so the depositor has eight nozzles. One nozzle is closed off when the depositor is used on the seven-across Tiromat machine. "The depositor is very accurate," says Reichel, "usually within a gram."
With apples and caramel sauce in place, trays move into the sealing station on the Tiromat machine. As the lidstock is heat-sealed to the white tray material, a mix of gases is backflushed into the headspace of each tray. Reichel doesn't identify what the gas ratios are, but he acknowledges that CO2, N2 and O2 are all used. Mississippi Welders (Rochester, MN) is the supplier of these gases.
"They've been very helpful in our development," says Reichel. "The mix of gases, the temperature, the consistency of the mix—all of it is critical, and we've done a lot of work with our gas supplier to achieve the shelf life and quality we're now getting."
As trays come out of the Tiromat machine, an operator performs a visual quality check on just about every pack. Then the trays are conveyed through a metal detector before being placed on a flighted infeed conveyor leading to the Dimension Industries cartoner. It erects carton blanks, loads trays into cartons, and then hot melt glues the end flaps. A Videojet ink-jet coder from Marconi Data Systems (Wood Dale, IL) adds a use-by date.
Fed randomly
"The neat thing about the cartoner is that you can feed it randomly," says Reichel. "It only picks a carton from the magazine when a sensor detects that a tray is in that flight."
Conveyor connections make it possible to feed trays to the cartoner from either the Tiromat f/f/s machine or the in-line sealer. The plant runs either one line or the other at any one time.
The 16-pt SBS cartons used for apples are from Green Bay Packaging (Green Bay, WI). They're printed offset in four colors plus aqueous coating.
Reichel acknowledges the added cost that comes with the brightly printed windowed carton, but he firmly believes the shelf impact it delivers makes it well worthwhile. "You only have a limited amount of time to catch the consumer's eye," he points out.
Just installed the week before Packaging World's visit was a Kallfass Universa 5050 automatic L-style shrink bundler from Kallfass/ CPS&S (Atlanta, GA). As cartons emerge from the cartoner, operators can either place them into corrugated shippers or load them into the flighted infeed of the shrink bundler.
"We had a semi-automatic system of shrink bundling before, but it required four people," says Reichel. "With this new machine, one person is all that's required. He can load four, six, eight or 12 cartons into the flighted infeed and the bundler does the rest."
And what do consumers pay for Reichel's apples?
"We want consumers to pay 99 cents for the 4-oz pack," says Reichel. He notes that that is typically what's charged at the Wal-Mart, 7-Eleven, Cub Foods, and Kroger stores that carry Dippin' Stix Apples in the Midwest, the East, the West, and parts of the South. Apparently, consumers find the product tantalizing.
"One of our challenges lately is in meeting demand," says Reichel. "Some of these larger chains have the ability to call up and say they'll take ten more pallets of apples this week because they're going to start [putting our product] in another distribution center. Fortunately we have good equipment. Even now we have some untapped capacity in our equipment, partly because we took the Field of Dreams approach on capacity: If you build it, customers will come.
"The other thing that has put us on sound footing is that throughout the development stage, it was always our goal to make things idiot-proof. So even if the cold chain is broken, within limits of course, shelf life and quality would still not be jeopardized.
"It's been baby steps all the way, really. Some days you figure things out, some days you don't. But in the last six months, it's been gratifying to see that growth, in apples especially, has been huge."
See the sidebar that goes with this story: Robotics to the rescue
Companies in this article