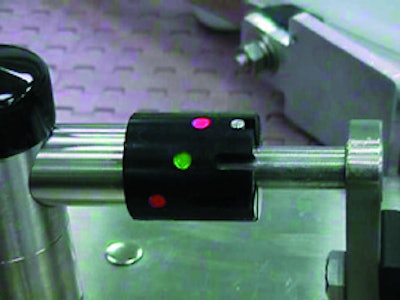 In its first year, Glaxo Wellcome's "Achieving Quick Changeover" project reduced changeover times by 28% across several solid-dose pharmaceutical packaging lines at its Zebulon, NC, facility. The plant forecasts changeover time to dwindle another 17% on those lines this year. Much of the project's success can be credited to software developed in-house.
When the plant was built in the early '80s, the majority of its solid-dose production was dedicated to Zantac®, a prescription-only gastro-intestinal medicine. Now it produces more than 30 products, in 120 different stockkeeping units, which include different package sizes and product strengths. That change emphasizes the importance of quick changeovers at the plant, many of which will be tool-less.
By 1995, Zantac was approved for over-the-counter sales. That same year Glaxo plc and Wellcome plc merged to form Glaxo Wellcome Inc. Headquartered in Research Triangle Park, NC, the company is a subsidiary of London-based Glaxo Wellcome plc. The company operates U.S. manufacturing facilities at both West Greenwich, RI, and at Zebulon.
Today, Zantac is the only over-the-counter (OTC) offering made at the Zebulon plant, where the 120 prescription drug SKUs are made and packaged. Prescription drugs are formulated to treat everything from asthma to migraine headaches to cardiovascular ailments to AIDS/HIV.
To accommodate this growing product line and to be flexible enough to fill future sales demands, "We wanted to increase our production capacity," says Sandy Hood, quick-changeover project co-leader in solid-dose packaging.
To do that, the company invested in additional packaging lines, the newest of which became operational about three years ago. Today, in its solid-dose packaging area, the Zebulon plant operates several packaging lines. Some lines are equipped with thermoform/fill/seal machines to pack tablets in blisters. Other lines fill tablets into plastic bottles. The lines run six days/wk, two 12-hr shifts/day.
Projecting change
"For the first 10 years or so that the plant was open, we averaged 12 changeovers per line per year," says Hood. Now, with more lines and more products, he says the company is "forecasting about 70 changeovers per line this year."
Realizing the significance of that volume of changeovers and dissatisfied with the time they took, solid-dose director Michael Doelling and manager Frank Bria began putting together a quick-changeover team in late '97. A project team of 24 key plant representatives attended a two-day quick-changeover seminar delivered by Productivity Inc. (Portland, OR) in November '97. Productivity provides manufacturing companies with management and educational products and services.
"From there, we developed a communications plan and an overview for the 170 people that represent the operating staff in the Solid-Dose Department," Hood recalls. This plan included project expectations, as specified by Jeff Strum, senior vice president of technical operations. These expectations included improved flexibility to meet increasing market demand, improved response times to customer needs and the ability to accommodate smaller, just-in-time orders.
On January 1, 1998, the plant officially started the Achieving Quick Changeover [AQC] project. AQC is planned to take three years.
Establishing a database
When the AQC project began, the team's first task was to establish standards for changeover times. "With no historical data, our first task was to establish a database reflecting all the elements involved in changeovers," Hood notes.
Documenting changeover details "was an additional burden for our production leaders," Hood recalls. "We immediately began to improve our methods and look for a way to replace our manual data collection forms. A technician on the AQC team developed a software program. It was an example of the creativity and involvement that people in our department have shown for the project.
"In the most basic description," he says, "the software tracks the major elements of changeover and reduces the necessary manual tasks involved. The first version of the software was meant to track the clearance of the products and packaging components from the previous run, parts exchange [to accommodate the next product] and [equipment] debugging. It also provided real-time comparisons of our changeovers with previously recorded data." Hood says that during the first four months, the software was used simply to collect changeover data.
This database enabled the plant to establish a baseline for line changeovers and establish matrices for tracking different products, analyzing trends and making packaging line predictions. That helped management accurately assign times for product runs and changeovers. With the software, Glaxo Wellcome can also keep tabs on changeovers as they're being done. For example, specific problems can be entered into the system to make future changeovers go more smoothly. After several months of initial tracking, the AQC team began to identify areas of improvement so that changeovers could be made more rapidly.
How it works
The software includes point-and-click buttons that represent the solid-dose lines. By double-clicking a button, the products that are packaged on that specific line are shown. Clicking on a specific product packaged on the line shows equipment set-up information for that product.
"Before the first version of the software was completed, it became evident that accurate equipment set-up information presented an area of opportunity," says Hood. "The software has been modified to provide specific equipment set-up documentation for each product variety. That information is distributed through our local area network to about 20 different computer stations."
The server-based system includes a computer terminal at each of the lines and at other stations where the department manager, equipment engineers and changeover team personnel can monitor and record changeover details.
To change a line over to a new product near the end of a production run, the line leader accesses the software. At the end of the run, the line leader changes the system's "mode" status from "full production" to "red" mode, meaning production has ceased.
While in this red mode, line mechanics and operators remove the remaining product and packaging components from the line. These include caps, bottles, cartons, leaflets, inserts or outserts, cotton, labels, etc. The equipment is stripped of its changeover parts and cleaned to remove any residual traces of the previously packaged product.
The line leader verifies that these tasks are complete. At that time, the line leader goes back to the computer terminal to change to a "yellow" mode, indicating that the line has been cleared and is ready for changeover to accommodate the next scheduled product run.
Parts room developed
For years, the plant has stored its changeover parts in cabinets beside the packaging lines. But as Hood explains, "space is at a premium in our plant, and the cabinets take up a lot of space. Also, they're hard to clean around and keep in good shape." Worse yet, he says, "parts are often hard to find. At the same time we initiated AQC, we built a separate room to store change parts. It's about 20 feet by 60 feet. We believe it will use some of the latest technology in change parts storage and retrieval." The change parts room is scheduled to be ready this spring. "We're loading parts into it now, and once it's operational we'll have one person with primary responsibility for running it. We'll also designate personnel from other shifts to have access to it."
Glaxo Wellcome gained some ideas for its parts room and changeover improvements from another major pharmaceutical firm, Pharmacia & Upjohn, that was the focus of a quick-changeover article published in Packaging World (see PW, July '98, p. 49, or packworld.com/go/pharmacia). Hood explains, "We visited Pharmacia & Upjohn's facility in Kalamazoo, Michigan," to see its packaging lines and learn a bit about how that plant improved its changeover efforts.
"It was a great opportunity to exchange ideas and experiences about implementing a quick-changeover project," says Bria. However, Hood says, "Our change parts room is quite a bit different than theirs." Instead of using shelving and racking systems, "we have rotating storage carousels to hold our change parts," explains Bria, who serves as the AQC project sponsor. The storage units come from Ho/oonel Storage Systems (Pittsburgh, PA). They measure 16'Wx8'Dx32'H. "These units maximize space utilization in our storage area. We expect them to be a major part of our success with the project," Bria says.
Equipment changes
Hood says change parts are being organized into "kits" to accommodate different products that run on either the thermoforming lines for blister production or on the bottling lines. Typical bottling line changeovers involve the following equipment (and examples of change parts for each machine):
* Unscrambler (sorting discs, delivery chute and bottle grippers);
* Tablet filler (change slats, pin bars, dividers, drop chutes, feedscrews);
* Cottoner (feedscrew, height positioner);
* Capper (feedscrews, cap sorting and orientation wheels, cap chutes, infeed and discharge starwheels, cap chucks, gripper arms);
* Induction sealer and cap retorquer (height and width adjustments);
* Labeler (infeed and discharge starweels, rail adjustments); and
* Cartoner (product and carton chains, opening device).
For blister packs, tf/f/s machines require change parts for upper and lower forming and sealing dies, web track guides, perforation and punch station assemblies, reject stations, pick-and-place transfer devices, magazines, lowerators and pushers.
New quick-changeover conveyor equipment is being evaluated on one of the bottling lines. Hood says the guiderails, from Fenner Drives (Manheim, PA), make it easier for operators to change conveyor widths to accommodate different bottle sizes.
Initial assessment
Besides the conveyors, Hood says that when new machinery is needed on a line, the company specifies that the equipment be designed for quick changeover. One example would be the labelers the Zebulon plant recently purchased from Sancoa Intl. (Mt. Laurel, NJ).
"We had some older labelers on three of the bottling lines," he says. "We needed to buy new machines that were in better condition and were suited for quick changeover. Sancoa worked really well with us in designing quick changeover into these labelers. We just added a third Sancoa unit last month." Two examples of how these labelers come equipped for quick change, Hood says, are that they have mounting hardware designed for quick exchange of parts and graduated scales to indicate proper locations for change parts.
As to the near-term future of the AQC project, Hood says the quick-changeover software will soon be entering its third, and likely final, stage. "We're developing the software so that we can get a graphical representation of changeover history on each line, such as the date of the changeover, how long it took and what was involved. We think that should be available by the end of June. Once it's completed, we'll be able to better graph changeovers and track our improvements."
Hood says the company aims to make changeovers so reliable that any operator will be able to make them. More sophisticated machinery changeovers still require mechanics with greater qualifications.
Asked to quantify the advantages of the plant's AQC to date, Hood says, "We've been able to decrease the average downtime for changeovers from 21.6 hours to 15-and-a-half hours," Hood says.
George Pearson, systems integration consultant, says that on one of the solid-dose lines, the average changeover time decreased from 32 to 17 hours. With more than 500 changeovers, labor savings could be significant. "Reducing labor costs for changeovers is certainly one of our goals," Hood notes, "though we didn't have a specific number in mind that we wanted to reach over the three-year period that AQC is designed for."
Knowing the reduction in changeover time from last January through December, the company is forecasting that it will free up 2꼼 hours of additional packaging line capacity at the Zebulon plant this year. And that's precisely the goal of the AQC program.
"When we went into this program, we wanted to increase our production capacity by about 25 percent total during the three-year project," Hood summarizes. "And so far we're on track for achieving that."
Companies in this article
Videos from Triangle Package Machinery Company