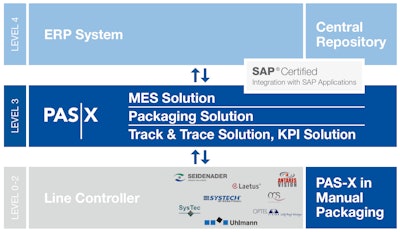 Werum IT Solutions is expanding its integrating role in the field of packaging serialization and aggregation: The company is extending its independent track-and-trace product via a connection to OCS Checkweighers' equipment. Now, PAS-X Track & Trace not only provides an adapter to OCS but to all leading line controllers such as Antares Vision, Laetus, Optel Vision, Seidenader Maschinenbau, Systech, and Uhlmann.
With PAS-X Track & Trace, Werum offers the pharmaceutical industry a product to help comply with anti-counterfeiting requirements for drugs. It provides serialization and aggregation functionality for packaging processes and integrates the Enterprise Resource Planning and Global Repository with the shop floor packaging equipment and line controllers.
In contrast to the multi-line managers of the equipment suppliers, PAS-X Track & Trace comprises a database to store all serialization data so that a connection to a global external repository is not required. In particular, this approach enables serialization tree management in the entire manufacturing area, such as repackaging and rework. PAS-X Track & Trace can easily be extended to become the PAS-X Packaging Solution or the PAS-X Manufacturing Execution System (MES).
Companies in this article