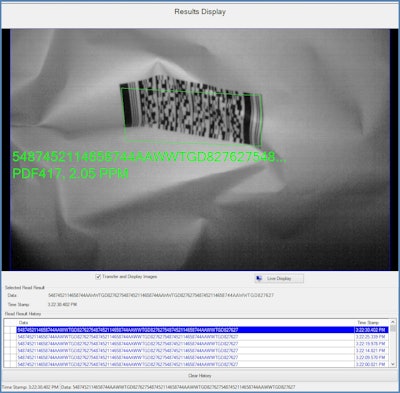 Cognex Corp. announces its DataMan 5.2 software release with expanded tuning and scripting capability as well as a new test mode for its popular DataMan 300 and 503 series of barcode readers. The new software significantly increases read rates by decoding lower resolution 1-D codes and extending intelligent tuning capabilities to all symbologies, including Aztec, MaxiCode and PDF417. The software release includes the high-performance Hotbars™ algorithm, which handles both 1-D and PDF417 barcodes.
The DataMan 5.2 software release extends the easy-to-use 2-D intelligent tuning capability that was introduced by the popular DataMan 300 Series. This intelligent tuning capability decreased set up time while increasing read rates for Direct Part Mark (DPM) code reading applications. This software release extends that advanced capability to other symbologies, such as 1-D barcodes, MaxiCode and QR codes. These new tuning capabilities bring proven, industry-leading technology to code reading applications in consumer products, logistics, food, beverage and automotive. This new release also includes added capabilities to the scripting feature of the DataMan 300 for advanced logic and decision making in the reader, and 1-D barcode quality metrics for users to optimize their processes.
The DataMan 5.2 software is available for download.
Companies in this article