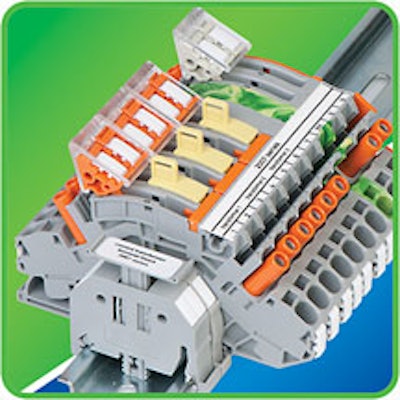 Engaging the lever fully automatically short-circuits the transformer when using the required adjacent push-in jumper – useful when testing, troubleshooting, or calibrating relays, meters, instruments, and control systems.
The small size, just 99mm long and 8mm wide, is said to reduce panel space by up to 55% and associated costs by up to 25% when compared to traditional test switch products. Its touch-proof design does not require a separate cover to be installed, which eases access to test plugs and meter connections. Four marking locations help ensure wiring accuracy: on the disconnect link, on top of the terminal block, and on the sides. Marking is provided via WMB marker tags or a continuous marking strip.
Available in through or ground connection versions, the 2007 Series employs CAGE CLAMPS Spring Pressure Technology for conductor sizes 20-8 AWG. This eliminates lugs, crimps, and torqueing to make all connections maintenance-free. A full line of accessories is available including test plugs, a lock-out plug, and an optional mechanical link to gang disconnect levers together.
Companies in this article