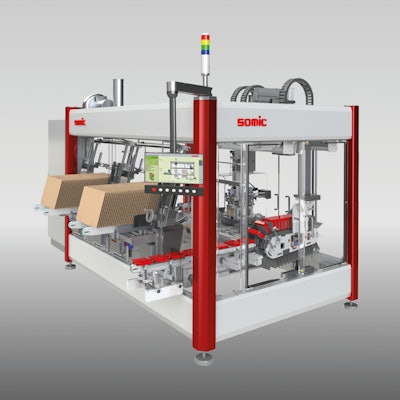 Somic end-of-line packaging machines are well known as innovative solutions. And because so many customers need to change the size or format of the case they're filling on a particular day or shift, SIKO electronic position indicators from have become a trusted way of simplifying the changeover process on Somic packaging machines.
According to Dr. Johann Härtl, Head of Construction at Somic, first it was the AP04 indicator the firm relied on, but now the successor model AP05 is in use. "They are very compact, easy to integrate into the machine control system, and very user-friendly in terms of readability and clarity," notes Härtl. Some customers have 20 or 30 formats on a line, so they make full use of the flexibility designed into the machines, he adds. Some even produce both wraparound and tray-plus-lid formats on a single machine.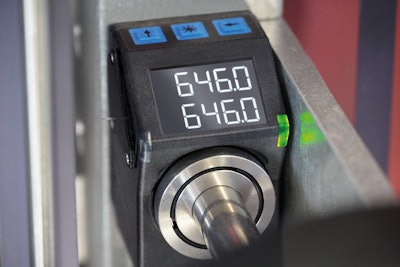 The monitored size changeover made possible by the integration of the electronic position indicators means the operator simply selects the required format, which is stored as a recipe in the machine control system. The control system then sends the new set values to the displays to be adjusted. The back-lit LCD displays are easy to read and also feature green and red status LEDs. When the correct value is reached by turning a crank, the LED changes to green: position reached. Otherwise the LED will continue to light up red, an indication that readjustment is necessary. In addition, arrows also conveniently indicate the direction in which adjustment is required. As the communication interface of the SIKO position indicators in the machine control always provides the current position information, it is effectively ruled out that incorrect settings could lead to quality problems or even damage to machine parts when the machine is restarted. Adjustment with electronic displays is much more efficient, especially on machines with many adjustment points and frequent changes. The machine has stored all default values; target positions no longer have to be manually selected from format lists.
If packaging machinery is your thing, be sure to go here for a report on new technology featured at PACK EXPO Connects.
The next expansion step for Somic would be the full automation of size changeover via actuators. The first concepts are already being tested, as Somic is keenly interested in increasing machine flexibility while simultaneously maintaining high process reliability. The more adjustment points there are and the more often the formats have to be changed, the more attractive fully automated adjustment becomes.
"We are happy to provide support for further developments and new projects," says Moritz Müller, PositionLine Product Manager at SIKO. "This includes, for example, the integration of IO-Link interfaces to simplify integration into the machine control system or full automation via our add-on-compatible compact actuators."

Companies in this article