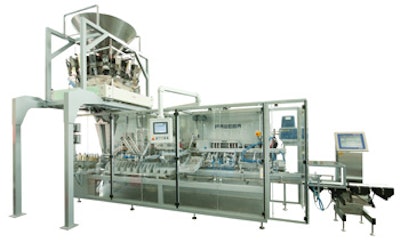 As the packaging market continues to grow and end users demand greater flexibility, faster changeovers between products and easier service and maintenance OEMs are eliminating the main line shaft in their packaging machines and replacing the cam-driven axes with individual servo axes. This is known as a Generation 3 machine.
Gen 3 solutions encompass logic, HMI and motion control functions on the same computing platform. The benefit is a tightly integrated programming language for PLC and motion control combined with all digital control, effectively streamlining the mechanical machine structure and shrinking the machinery footprint.
FAWEMA, FA 217 packaging machine offers greater flexibility thanks to servo-driven main motions. Unlike previous generations of the machine which were constrained by mechanical cams that were difficult to change once installed, the FA 217 machine can be adjusted to product specifications. By decoupling the cams, end users can change both the filling times and the transport times independently.
"Some products, like teas, may need to be handled more carefully during transport. So end users can increase the filling time, but speed up the transport and still maintain high throughput," said the leader of Fawema's design team. "This wasn't possible before the new generation of this machine because if you had to slow down transport, you had to slow down the machine because it was all linked together."
The FA 217 packaging machine utilizes Schneider Electric's PacDrive iSH technology, which takes I/O and servo drives out of electrical cabinets and moves them onto individual machine modules.
End users will see a 50 percent reduction in changeover time with the servo-driven FA 217 machine over cam-driven models.
"A traditional machine had a changeover time of 90 minutes. The new machine can be changed in less than 45 minutes, with typical changes achieved in less than 30 minutes. About half of all changeover work is now automated with the servo motors provided by Schneider Electric."
The FA 217 machine also has a larger format range and a low changeover cost for additional formats, allowing end users to run a wider variety of products on the same machine for a lower cost. In addition, maintenance on the new generation machine has been reduced by 50 percent since there are no cams that require lubrication, and the machine itself offers better access for maintenance and cleaning.
The FA 217 machine has a weight range of .5 to 5 kg, and can produce bags with a flat top closing, flat fold closing, or upright closing. It can produce up to 80 bags per minute.

Companies in this article