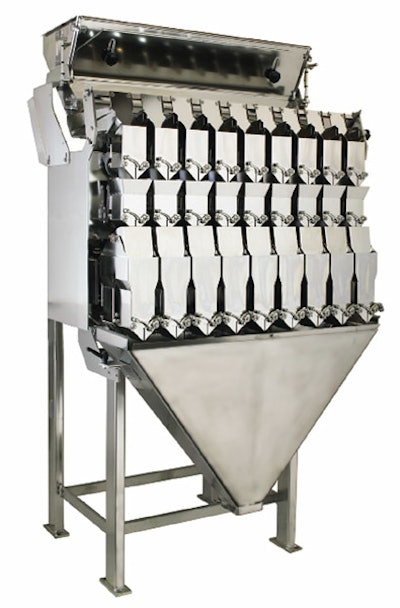 The Selectacom line of combination weighers from Triangle Package Machinery is capable of up to 170 drops/min. According to chief electronics engineer Steve Bergholt, the controls package plays a key role in making this kind of speed possible.
The components Bergholt refers to are the ControLogix programmable automation controller from Rockwell and the PC56 in-rack PC from ProSoft.
"Before switching to the PC56 we used what others are typically still using: a more or less proprietary hardware solution," says Bergholt. "In our case it was an industrialized computer bus with a Pentium processor running software that ran our scales and our baggers."
The switch to ProSoft's PC56 was part of a larger transition from the controls package described above to Rockwell's ControLogix controller. "The PC56 card plugs right into the ControLogix rack and communicates to the main ControLogix processor through a direct connection to the backplane," says Bergholt. "The PC56 runs Windows CE, and on it is software that runs the calculations required to determine which combination of weigh buckets should drop each cycle. The ControlLogix controller runs all the sequencing, bucket timing, communications, interfacing, and everything else that is required for the scale to operate. But the PC56 is dedicated to a single task: calculating which buckets should be selected to make the next drop. That calculation process is math-intensive and time-critical. The PC56 is basically a co-processor card."
One notable feature of the PC56 is what Bergholt calls "dual-ported RAM." He explains. "It permits both the ControLogix processor and the PC56 to both access the same RAM quickly," says Bergholt. "So you get a very rapid data exchange between the two."
Bergholt also adds that the shift to a controls solution that is less proprietary in nature is a reassurance to prospective customers.
"Just about any proprietary solution can make customers wonder about how easily they can buy additional cards in the future," says Bergholt. "They like to buy hardware that's readily available so they can get spares or replacements themselves without being locked in to a proprietary thing. It's another reflection of the whole trend toward standardization."
Companies in this article
Videos from Triangle Package Machinery Company