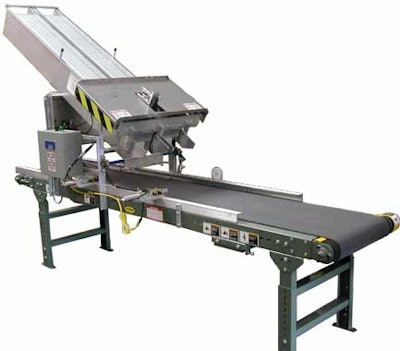 The Model 23B clamshell denester from T.A.D. Packaging Machinery is designed to help strawberry farms automate container denesting into corrugated trays for picking. Without the denester, three operators are typically needed to place clamshells into corrugated trays. With the Model 23B in action, only one operator is needed, and his only task is to replenish the magazine with clamshells.
Though commercially available since 1999, the T.A.D. denester got a bit of a makeover last year when all valves and cylinders in the pneumatics system were replaced by valves and cylinders from Norgren. The six air cylinders actuate such components as the mechanical arm that pulls clamshells from the magazine for loading into the corrugated trays. The valves—there are four on this machine—regulate the air that is delivered to the cylinders.
"Norgren has some neat features on their components," says Todd Dice, owner of T.A.D. Packaging Machinery. A good example, he says, is the built-in cushions found in the Norgren cylinders.
"On a conventional air cylinder, when there's an air cushion, there's a needle valve that needs to be adjusted to make the cushioning just right," Dice says. On the Norgren cylinder, he adds, this step is unncecessary. "No matter how fast or how slow you make that cylinder go, the cushion always works as it should. And for me, that's just one less issue I have to worry about here in the factory and out in the field, because a cushion helps the cylinder last longer. I can adjust it properly here in the factory, but I can't prevent a mechanic or operator from fiddling with that needle valve. Here, there is no needle valve. I don't have to worry about them messing with the cylinder and having its useful life shortened."
The valves, he adds, are smaller than those supplied by other manufacturers, yet they perform every bit as well as the other, larger valves that used to be on the Model 23B. The valves are also equipped with mechanical indicators that Dice finds especially useful. These indicators tell the operator that the valve is properly sending air from one part of the cylinder to another.
Another advantage, Dice notes, in the Norgren cylinders and valves is that they don't need extra lubrication, so the amount of time that has to be spent on extra machine maintenance is reduced.
"Our old air prep unit had an oiler that would automatically dispense oil through the pneumatic system to keep all the valves and cylinders lubricated," Dice says. "Norgren lubricates it all at the factory, and that lubrication never leaves the valves or the cylinders. It's another maintenance thing that you don't have to concern yourself with."
Companies in this article