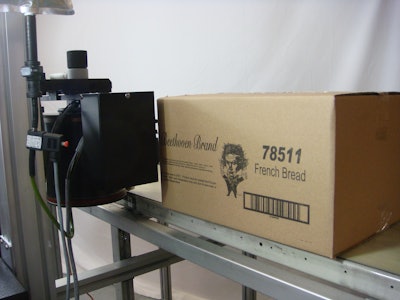 The new Scribe 350 and 600 Model printers represent the most significant development for case coding since the introduction of high-resolution inkjet. Scribe Printers are based on rotary screen printing technology and utilize label design software to create and maintain print messages. These printers will offer:
• Print quality that is indistinguishable from preprinted cases
• A large, 6 inch x 16 inch print field
• A cost of ownership that is a fraction of the cost of inkjet
• Simple design and management software
These features make the Scribe not only competitive in printing product identification information but fully capable of printing graphics, logos and most other promotional print in a single, low cost operation on the packaging line. Generic case print programs will become an affordable reality.
PRINT QUALITY:
• 200, 300, 600 dot per inch, user selectable resolution
• Opaque, pigmented ink
• Basic colors
PREPRINT SCOPE OF OPERATION:
• Large, 6 inch print height
• Large block print/small fine-line print
• Perfect barcodes
• Fine-line and block graphics and logos
LOW COST OF OPERATION AND OWNERSHIP:
• One half to one third the cost of inkjet in appropriate applications
• Dense, full panel print made affordable
EASY TO INSTALL AND OPERATE:
• Uses label design software for image creation
• Uses an electromechanical print delivery system that is rugged, reliable and easy to operate and maintain.
Companies in this article