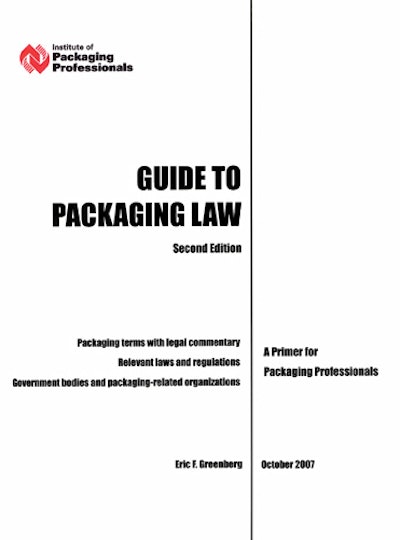 When the first edition of the Guide to Packaging Law came out in 1996, it was the first of its kind, a reference volume for packaging professionals and others who had to understand legal concepts in their work but who had no easy way to learn about them.
"In that sense, the book is an outgrowth of my magazine columns," says Greenberg, whose monthly The Legal Side columns in PW are specifically designed to explain developments in packaging law and regulation to non-attorneys. "There are plenty of legal materials written for legal professionals. This book is instead designed for the packaging professionals, quality assurance professionals, and other managers, directors, and corporate officers whose job responsibilities require a working knowledge of legal concepts, but who often find it difficult to quickly acquire that knowledge."
As a result, the centerpiece of the book is a set of short, easy-to-read glossary entries for almost 200 key legal and regulatory terms, over 45 more entries than in the first edition. In addition to covering packaging law terms relating to the regulation of packaging by FDA and other federal agencies, the book touches on labeling issues, bioterror, product security, environmental packaging, litigation, international concepts, and intellectual property issues. The entries are indexed for easy access. Rounding out the book's useful resources are a list and description of relevant federal agencies, a listing of packaging organizations, and several introductory essays to help the reader get a better perspective on packaging law.
The book can be ordered at http://www.iopp.org/store/category.cfm?category_id=4, $129 for IoPP members, $169 for nonmembers.