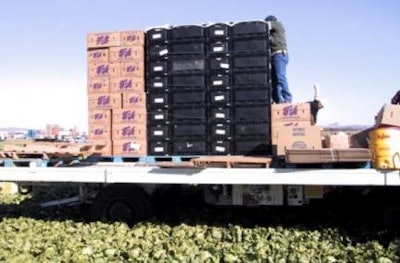 Family-owned grower-shipper Tanimura & Antle, Salinas, CA, is conducting RFID fieldwork in the literal sense, too. Speaking at the March 2005 RFID World conference and with RFID Antenna, T&A's vice president of information technology Tom Casas noted how the company was making progress on its two-month-old RFID program for reusable plastic containers (RPCs). Each RPC contains 24 heads of lettuce that are shipped to Wal-Mart.
"Traceability is a big deal in produce," Casas said, "and it's not easy to trace it back to the field. We wanted to move [RFID tag application] as far back in the supply chain as we could."
The company had already established serialized track-and-trace using a warehouse management system at the pallet level, Casas says.
Bins and tags
T&A personnel manually apply the RFID tags to the bins in the back of the harvester machine as bins are palletized (see image) for shipment to Wal-Mart. Its system uses a truck-mounted PC and a hand-held scanner, which helps to marry the bin's pallet-level bar code to the RFID tag.
Both use Class 0 (preprogrammed) and Class 1 (programmable read-write) tags from Matrics (now Symbol Technologies) or Alien Technology supplied as pressure-sensitive "smart labels" from four different vendors. These labels include product identification and a bar code.
T&A uses Alien and Matrics/Symbol readers including an array of four antennas mounted on a metal frame to read the pallet load. Casas says each of the two portals does better at reading its same-supplier tags.The pallet label is attached to an RPC on the pallet and not directly onto the pallet.
The company uses a Matrics/Symbol PVC framed portal for testing (see image), checking more than 45 different variables relating to tag placement on the RPCs. "And we also tested lots of configuration with antennas in terms of distance, angle, and location in relation to the load," Casas tells RFID Antenna.
T&A developed it's own software, though Casas said "in the longer term we will use [purchased] middleware. The secret to a competitive advantage is in the data."
T&A's data collection
Casas says they have a one-to-one relationship between the item's bar code and the Electronic Product Code.
"We can scan the bar code on the RFID tag and know the EPC," Casas explains, "or we can read the EPC and know the bar code. We are using bar code technology to further create associations while the bin is on the harvester." He adds that T&A scans an internal code for the pallet-level bar code that it has been using for years, then reads an EPC compliant pallet level RFID tag, followed by reading each bin-level tag.
"In the end we have 40 bin-level tags that are associated with the EPC pallet-level tag that is associated with our internal pallet number identification," Casas says. "We can then scan or read any tag and know all of the other associated codes."
Awash with troubleshooting
Casas said technical hurdles included getting the tags to adhere to the RPC. "The tags have to be strong enough to stay on during processing, trucking, and through Wal-Mart's handling," he says, "but they must wash off at the RPC vendors' facilities." T&A worked with a label vendor to reformulate the adhesive backing. We would identify that vendor, but Casas tells us that yet another supplier's tags look promising. T&A uses RPCs with a 2x3 ft footprint from Orbis Corp. and CHEP. The RFID smart label is applied to a short end of the RPC.
Other highlights for T&A's RFID program include the following:
Tag performance has increased from 30% readable tags at the program's start to 95-98% now.
Fieldworkers have excitedly accepted the technology.
Wal-Mart was reporting able to read 70% of its tags just weeks into the program.

While the program has involved one item, Casas says they are adding a second stock-keeping unit by the end of April. At the same time, Casas says they are also developing an RFID solution for Albertson's, though that will involve corrugated bins.
Companies in this article