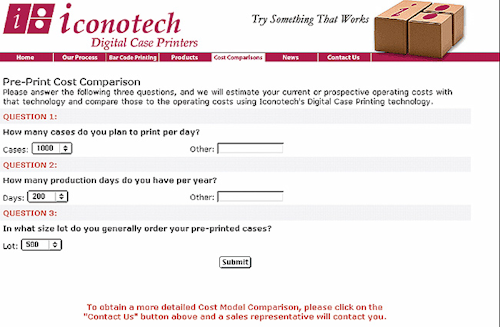 "In the coding and marking industry, our printing process is unique, yet we compete with well understood coding and marking technologies such as ink-jet, labeling, and preprint," says Linda Bertelsen, marketing director with Iconotech. "Generally, a prospective customer knows the pros and cons of these options, or has preconceived ideas. So, we always do an economic analysis to show the customer what they are really gaining."
By answering three simple questions about production levels, prospective customers can compare the economics of labels, preprint, or ink-jet to the Iconotech digital case printing process. The program calculates the operating cost of each and presents the users with the numerical data and rationale used to arrive at the results. If prospective customers like what they see and require more in-depth cost comparisons, they can contact an Iconotech specialist who will walk them through an expanded cost comparison.
Expanded cost calculators are accessible at www.iconotech.com/cmc on the company's Web site. The prospect can log in with a pre-assigned user name and password to gain access to more comprehensive cost comparison calculators. Here, Iconotech specialists can work online with a prospect to perform a detailed cost analysis. This allows for a broader number of input variables applicable to each marking method.
On the old Web site, prospects often didn't have all the answers to questions involved in old cost comparison models. Sales people had to regularly walk through the models with them to cull the most accurate information. Therefore, Iconotech designed simpler comparisons to give prospective customers a rough approximation of potential savings. Additionally, initial cost comparisons now include an explanation of how the program arrived at specific numbers. Bertelsen says the company wanted to "put more meat on the bone."
Iconotech is hoping the initial results will lure potential customers to explore the expanded cost comparison models, which can now be saved on the site, allowing customers to update and change existing information on subsequent visits to the site.
In addition to the cost comparison models, the site is now graphically enhanced and includes a visual demonstration of the company's printing process.
Companies in this article