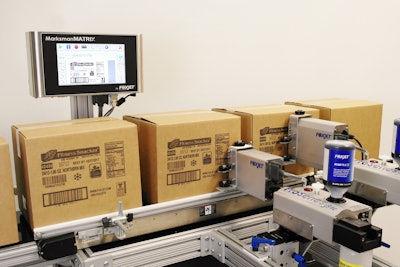 At its PACK EXPO Connects demo, FoxJet launched a wizard for its Marksman Matrix™ high-resolution ink-jet printer controller that allows users to link their existing ERP and product information databases directly to the controller without the need for IT help, to speed message creation and eliminate coding errors.
"We had some capability in the past to link to databases, but the wizard makes it much easier," shares Michael Sawyer, Global Distribution Sales Manager for FoxJet. "The wizard walks you through with a series of questions. It's anywhere from a two- to three-minute process from the time you start with the database until you link with our system and get it ready for print.
"It's a very quick process that can save a lot of time, and it obviously doesn't require a lot of IT resources. Anyone familiar with a computer can do this very quickly."
In the past, Sawyer explains, either FoxJet or its distributors would work with customers to set up their messages and make sure their databases were linked properly. With the wizard, a production supervisor or line supervisor, for example, can now perform this task on their own.
Once a database is linked, the software automatically updates whenever the customer switches messages, meaning they don't have to create new messages for every product they create. "Rather, they would just start the product, and all of the information will drop into the message, because it's been pre-formatted with the wizard," Sawyer says. "So it eliminates the need to have, let's say, maybe thousands or tens of thousands of messages, one for each of the product SKUs. Rather, we link directly into the customer's database that already has that product information in it."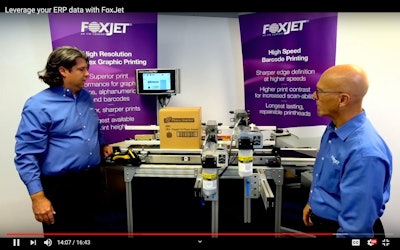 Databases can be very simple, such as just a SKU number and a description. Or they can include a product code, a line-one description, a line-two description, barcode formats, images, or other information. "In an ideal situation, the customer would have anything they printed on the side of the box in a variable inside of the database so we can drop all of that information into a template message that is really just a placeholder for those data pieces," Sawyer says.
In addition to reducing the time it takes to create messages, the wizard also reduces and/or eliminates human interaction with the machine, greatly decreasing the potential for coding errors. "So whether it's mistakes made during the message editing, if you had to edit a message for each particular product, or even perhaps if a customer chose the wrong message to start with—all those things result in different messages on the box than are needed, thus causing all kinds of issues throughout the supply chain," says Sawyer.
He adds that one of the things that differentiates the Marksman Matrix wizard is that the controller uses Microsoft Windows 10, making it compatible with "hundreds" of database formats, including Microsoft Excel, Microsoft Access, SQL Server, SAP—"really all the big names in database formats," he says. "Everything is ready to go, out of the box, at no additional charge to the customer," he adds.
To view demos from FoxJet (available through March 31, 2021) and to add the company to your MyConnects Planner, click here.
Companies in this article