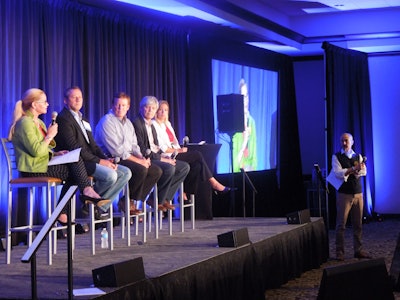 Could digital printing technology attract younger professionals who might otherwise envision working on printing presses as a dirty factory job "their old man did?" Could digitally printed packages communicate with smartphones to build social media interaction between consumers and product manufacturers? How might The Coca-Cola Company use digital printing to continue to expand its "Share a Coke" campaign?
These questions/possibilities came to light at "Digital Printing Spectrum 2017," held May 23 and 24 in Gurnee, IL, which was hosted by Domino Digital Printing Solutions.
The digitally printed packaging market is predicted to reach a value of $22.4 million by 2022, growing at a Compound Annual Growth Rate of 13% between now and that date, predicts Smithers Pira in its report, "The Future of Digital Print for Packaging to 2022."
The Share a Coke campaign "put digital printing on the map" for many consumers, noted Dan Muenzer, VP of Marketing, Constantia Flexibles, who served as the event's moderator.
At Digital Printing Spectrum 2017, the process was often discussed as an alternative to more traditional methods, such as flexographic, offset and gravure printing. Digital printing can accommodate not just small-volume orders, but companies to move more modest-sized runs to digital presses to free up flexo presses for larger runs.
Muenzer noted that digital printing is effective for promotional or sample work—and for engaging consumers—Milennials in particular—by way of printing QR codes, augmented reality, etc., connecting packaging and electronic devices such as smartphones. "Digital printing can lead us to new accounts that use other print processes," he added.
Attracting younger workers
An interesting digital printing benefit was brought up by Simon Gross, CEO of Converting Equipment Intl. He pointed out that digital technology can help address the growing challenge of finding good press operators essential for running more traditional presses.
Domino Digital Printing OEM Manager Matt Condon addressed this in more detail, noting, "Instead of requiring mechanical skills necessary for [other printing presses], digital printing requires a different skill set. It needs people more computer-oriented." That could help draw younger workers to package printing jobs, a career sometimes viewed as factor work "that their old man did," said one event attendee. Condon addressed the benefits and considerations for roll-to-roll, roll-to-inline, roll-to-near-line, and hybrid digital equipment.
Below are additional takeaways from Digital Printing Spectrum 2017:
• Extended-text labels represent a strong profit sector for digital printing that doesn't get enough attention, according to a video presentation by David Walsh and Jennifer Dochstader of LPC, Inc.
• Continuing growth in private-label products in multiple industries will lead to growth opportunities for digital printing, noted Kevin Hayes, Executive VP, Outlook Group Packaging & Printing Solutions.
• Hayes noted that 76% of Americans live paycheck-to-paycheck, with the average baby boomer retirement savings of $136,000 meaning that digitally printed packaging labels at "dollar" stores and convenience stores will need to communicate what boomers need more than what they want. Hayes envisioned that one day consumers will be able to instruct "Siri" or "Alexa" on their smartphones to communicate with digitally printed packaging.
• Lynn Perenic, Owner & CEO of Argent Tape & Label, noted that the company invested in its first digital printing press (from Domino) late last year to meet the automotive industry's "zero-defect" goals.
• Scott Fisher, President of Smyth Companies, noted that the company has nine "digital assets" in use within its 11 facilities. He said, "Digital printing technology continues to evolve. For us, it allows us to receive art and ship out an order that day at times. It excites our sales force, but we have to be careful not to oversell its capabilities and under deliver. We have to develop costing models and understand our ink consumption and educate our personnel and our clients."
Digital Printing Spectrum 2017 was an educational event, designed to bring together a "spectrum" of supplier and converter industry leaders, including Domino customers, and companies looking to help their businesses be profitable with digital printing. The two-day event was attended by more than 300 total attendees, and included 46 tabletop exhibits.
Companies in this article