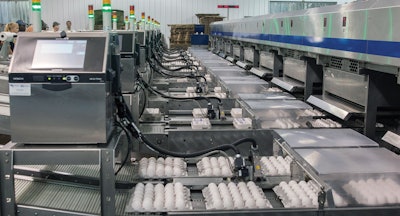 Giroux's Poultry Farm, Inc., Chazy, NY, operates a fully integrated chicken egg production, packaging, and distribution facility. This high-volume (approximately 100,000 dozens of eggs per day) producer supplies both retail and foodservice customers, including some U.S. military contracts.
Giroux's uses 12- and 18-count plastic foam and pulp fiber egg cartons. The molded pulp fiber cartons are supplied by Hartman of Toronto and Pactiv. The foam cartons are supplied by Dolco Packaging.
The eggs are washed, weighed, dried, and automatically deposited into the cartons using equipment from Moba. The filled egg cartons then are manually loaded into corrugated shipping cases (sourced from multiple suppliers), and shipping labels are manually applied to the cases.
Traditional mechanical stampers were used to date-code the individual cartons. But the stampers were causing maintenance problems. Packaging room operators were averaging two hours per day to clean and align the print stampers and still were experiencing less than optimum print quality. The downtime required to clean and align the stampers limited production capacity and resulted in significant carton waste. And the system also was incapable of detecting when egg cartons were not properly closed, resulting in even more rejection rates, carton waste, and repackaging time.
The egg producer turned to Van Alstine & Sons, Inc., an established distributor of packaging solutions, to assist Giroux's in finding a reliable and cost-effective marking and coding system. Van Alstine helped Giroux's evaluate options and recommended installation of RX-Series Continuous Ink Jet Printers from Hitachi Industrial Equipment, Hitachi America, Ltd. The small-character, high-speed printer is a non-contact system capable of printing variable data on a range of packaging surfaces. And touch-panel control makes it easy for operators to view and edit print messages.
Giroux's tested the Hitachi RX-SD 160W continuous ink jet printing system for one week to code best-used-by and product ID codes. That was all the time it took to demonstrate to Giroux's that this was the printing system to meet their needs. It delivers high-quality, high-accuracy codes, and by integrating customized electronic product detection device, the printer is aware when a carton is not properly closed.
Van Alstine installed 28 RX-SD 160W units at the egg packaging facility during late 2013 and early 2014, using custom-designed mounting brackets. The operating efficiency benefits were immediate in terms of uptime, ease of operation, and upgraded print quality. Giroux's realized a 43% reduction in operating costs (ink usage and printer maintenance), as well as elimination of print-related carton waste.
Giroux's has expressed great satisfaction with the sales and service teams at Hitachi and Van Alstine. Dale Gadway, Lead Technician at Giroux's Poultry Farm, Inc. says, "The Hitachi RX-Series has been a great printer, and I would recommend it to anybody."
GM and Owner of Giroux's Poultry Farm, Inc., Craig Giroux, adds, "Working with Hitachi was a positive experience all around. The print quality provides excellent clarity, and we've realized savings in ink usage, while also reducing line downtime and increasing labor efficiencies. Hitachi took good care of us. We plan to install two more of the printers in 2015."
Companies in this article