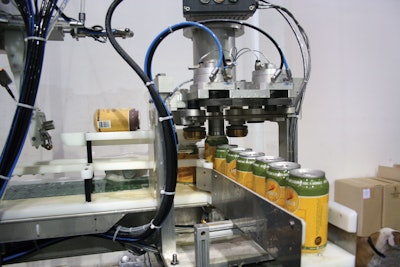 More and more craft brewers are adding aluminum cans to their packaging mix. Even Jim Koch, the founder of Boston Brewing Co. and brewer of Samuel Adams beer, is getting ready to launch a can, despite his declaration some years back that real beer belongs in glass bottles.

Complementing this move to cans is an equally noticeable preference for decorating those cans in a full-body shrink sleeve label. Among the latest examples is Bonfire Brewing in Eagle, CO. The firm fills 22-oz bottles for limited release, but the can is its mainstay packaging format.

"We were always geared toward cans," says co-founder and manager Andy Jessen. "Sustainability is a big deal out here in Colorado, and the statistics show that cans are recycled more successfully than glass. Cans are also lighter to ship and you can fit more on a truck because there's no wasted empty space where the neck is. And then there's the whole portability thing where rafting, camping, concerts, and other outdoor activities come into play."

Opened for business in November of 2010, Bonfire first dipped its toes into canning through the services of Mobile Canning Systems. But it soon became clear that in-house canning was the most cost-effective way to go. Part of the package is decorating in-house.

"It's much easier to introduce a new beer when you're labeling your own cans," says Jessen. "If you're in preprinted cans, you may find yourself pretty much hemmed into the same one or two beers year round because of the minimum order requirements on cans. We don't face that limitation. In fact, we have six different beers in stores right now." The bright stock cans, he adds, come from Ball Corp. (www.ball.com) in both 12- and 16-oz sizes.

Permitting Bonfire to be even more nimble is the fact that the PET-G labels are printed by Innovative Labeling Solutions on a digital press, the Model WS-6000 from HP. "We can change graphics at the drop of a hat," says Jessen. "It lets us do small gatherings like charity events or weddings, and again we don't have to worry about minimum orders."

Jessen also is a big fan of the print quality he sees from the digital press. "We hear all the time that our can looks better than those that have direct print," says Jessen. "Our colors really pop."

Bonfire installed its labeling, filling, and seaming line last year (see video at www.bit.ly/pwe00480). At the head of it is a full body shrink sleeve labeler from Tripack, the Model LSA-160. Engineered specifically for light production schedules and entry-level requirements, it takes up minimal floor space. Its cantilevered design simplifies the task of integrating it with the conveyor line on which the cans travel.

Using mandrel style film application, the Tripack machine pulls labels from a continuous tubed roll and uses a rotary knife to cut each label from the roll and apply it over a bottle. Though rated at 50 labels/min, Bonfire runs it comfortably at about 35/min. Bottles proceed from the label applicator to a steam tunnel Model ST-3, also from Tripack.

Decorated cans are conveyed into a four-head filler from Wild Goose Engineering. Seaming is done on a single-station, cam-driven, air-actuated machine that was also supplied by Wild Goose Engineering.

Multipacking is done with plastic can carriers that are applied by hand. Supplied by Pak Tech, the 12-oz cans take a six-pack format while 16-oz goes into a four-pack format. Multipacks are placed in corrugated trays that are then palletized.

"We are using can carriers that have a closed top rather than the ring-style carriers that can cause entanglement problems for wildlife," says Jessen.
Companies in this article