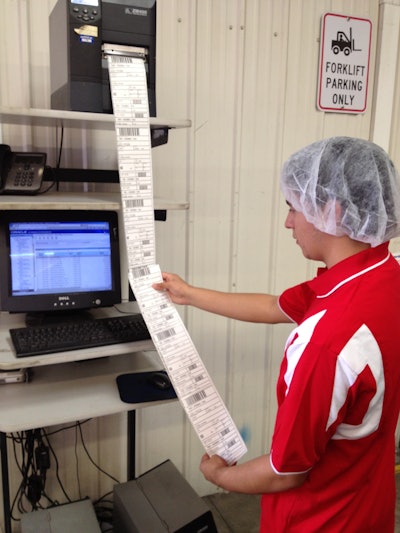 For Arizona-based EuroFresh Farms, a packer of greenhouse-grown tomatoes and cucumbers, implementing an enterprise resource planning (ERP) system for its technology-driven company was an enormous, one-year undertaking. The simplest and most seamless part of the project, however, was the integration of its 30 existing bar-code label printers into the new system.
Two years before adding the ERP system, EuroFresh had updated its Zebra Technologies-brand printers to the latest technology, the ZM400™, for case and pallet bar-code labeling of the 3.5 million pounds per week of produce shipped from its facilities, in Willcox and Snowflake, AZ.
Says Kevin Jensen, EuroFresh director of Information Technology, "We wanted to, if possible, take advantage of the investment we had already made in our Zebra printers. That's where the ZebraLink™ Enterprise Connector [ZEC] came into play."
Through the ZEC software, EuroFresh was able to link its printers with the ERP system, in a process that took just two days. "We worked with their support desk, and it took about two days to get everything configured and up and running," confirms Jensen. "Other than minor learning curves in the first couple of months, we pretty much have had zero issues with the system."
Technology-driven
EuroFresh Farms, founded in 1990, operates 318 acres of greenhouse facilities that produce tomatoes on the vine, as well as English and mini cucumbers for distribution across supermarket and club-store channels in the 48 contiguous states. Since its founding, EuroFresh has relied on technology to help create and deliver its high-quality, certified pesticide-free produce. The company utilizes computerized climate control systems within its greenhouses that take the guesswork out of critical growing parameters, such as temperature, humidity, light, irrigation, ventilation, and carbon dioxide levels.
Two years ago, EuroFresh began the process of implementing Oracle's JD Edwards EnterpriseOne ERP system. Says Jensen, "We chose the JD Edwards system because we felt it addressed the needs of a produce grower better than the other ones we had looked at." He adds that one of the benefits of the ERP system for EuroFresh is that it allows greater visibility into what is transpiring in the business and identifies pain points and critical points that need to be updated or evaluated and improved upon.
As part of the ERP implementation, EuroFresh needed to connect the Windows-based Oracle application to its printers, so that the variable bar-code data supplied by the Oracle system could be "translated" for the Zebra printers. However, EuroFresh did not want to have to invest in the costly middleware traditionally used to convert the XML-based data, so it opted for the ZEC software solution.
As Marty Johnson, product marketing manager at Zebra, explains, "Typically, if they hadn't used our ZEC solution, they would have needed to have something sit between our printers and the Oracle application to translate the information being sent from Oracle to our printers. So there would have been a need for middleware hardware to drive that conversion of information coming from Oracle to our printers.
"What ZEC does is replace that need, so the conversion can be done through the Enterprise Connector software application. So EuroFresh is saving money by not having to install middleware, a hardware server, and middleware application software."
During the JD Edwards implementation, EuroFresh teamed with Zebra to configure a version of ZEC running in a virtualized server environment with open-source Linux OS. According to Zebra, the "light-footprint software went in quickly and requires minimal maintenance."
Workhorse equipment
As mentioned, during the ERP implementation process, EuroFresh was intent on keeping its existing Zebra ZM400 printers, which Jensen describes as "fast," "robust," and "trouble-free." The ZM400 is an industrial printer that can accommodate labels up to 4.5 in. wide, employing either thermal-transfer or direct-thermal printing technology.
As Johnson explains, the printer uses Zebra's Element Energy Equalizer™ (E3™) technology, which controls how the print-head elements are heated, to ensure consistent print quality of bar codes from the first label to the last. "We optimize the whole process [of turning the heating element on and off] so that for each label, we have the same element of heat control of the print head, so we can produce the same print quality, label after label after label."
The ZM400 can print at resolutions from 203 dpi to 600 dpi, depending upon label size; in general, larger labels require less resolution than smaller ones. The speed of the printer can range from 4 in./sec to 10/sec, with higher resolutions resulting in a slower print speed.
According to Jensen, EuroFresh operates three printers per station across 10 stations within the company's two greenhouse facilities. The printers, which he describes as "workhorses," produce anywhere from 150,000 to 300,000 labels each week. Label design is done at a central station using ZebraDesigner™ for XML. Once the static information for a label is created, it is sent to each individual ZM400, where it resides until needed.
Gathering label data during the picking process begins when an operator scans with a hand-held scanner an RFID tag mounted at the head of each row of plants before he picks from them. The tag contains a unique ID number that identifies that particular row, along with all of the plants within it. As the worker harvests the produce, they also scan the cart into which the produce is placed. When a cart is full, it is sent over a weigh scale, where a weigh tag is created and a lot number is assigned to the product.
When the product reaches the packhouse, the lot number that was assigned at the weigh station is entered into the work order in the Oracle ERP system. This is where all of the information on lot number, harvest date, pack date, etc. is stored.

At work-order completion where the produce is packed, the labels are printed using the variable data, stored in the JD Edwards ERP system, along with the static label design created earlier.
"It's a pretty seamless process as far as the operators are concerned," explains Jensen. "They just go to the printer and tell it, 'I completed this number of cases on this work order,' and the labels automatically print with the correct lot data."
Equipped for the future
For its own internal use, EuroFresh applies the Zebra-printed bar-code labels on its finished pallets of produce, as product is sold and shipped one pallet at a time. "Having a pallet label drastically reduces the amount of time necessary for cycle counts, and for picking and shipping," says Jensen. These labels provide item number, lot number, and information on country of origin, for all of the cases on a pallet.
EuroFresh also labels individual cases for customers on request, to meet with emerging Produce Traceability Initiative requirements. PTI is a voluntary, industry-wide effort designed to help the industry maximize the effectiveness of current track-and-trace procedures, while developing a standardized industry approach. It relies on case-level electronic traceability through brand owner-assigned 14-digit GTIN (Global Trade Identification Numbers), as developed by the global standards organization GSI. Full-chain traceability is achieved when the GTIN and batch/lot number for each case of fresh produce is tracked as the case moves through the supply chain.
According to David Senerchia, director of business development at Zebra, the PTI offers the brand owner enhanced visibility into their supply chain. "In the event something goes wrong, like a recall, you can get to information very quickly to take the appropriate action. Internally, it really limits the scope and cost of any action you might need to take in response to a recall or containment."
Says Jensen, "PTI labeling is out there on the horizon. Some customers are requiring a little bit of it. It's a work in process, if you will. But eventually, the goal for PTI will be to have the ability to trace back more detailed information on the produce that goes to the customer. It is changing on a frequent basis, as the specifications are developed. So that's one of the nice things with our Zebra systems: We can respond quickly to those changing needs in the industry with the solution that we have here."
Companies in this article