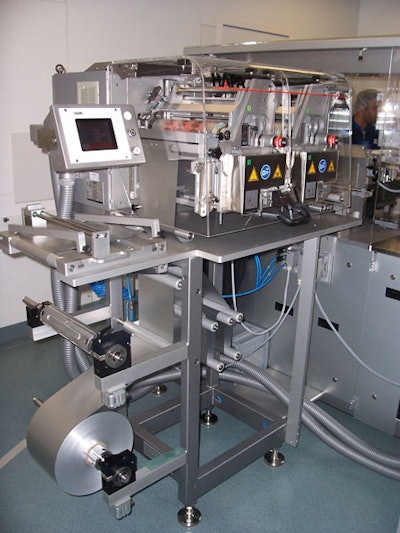 On-line printing of foil lidstock can go a long way toward simplifying inventory and minimizing waste. Just ask Allpack (www.allpack.ch), a pharmaceutical contract packaging firm located near Basel, Switzerland, that handles a variety of human and animal healthcare products.
Among its customers is Novartis, and a good example of the products it packs for this Swiss pharma giant is a 100-mg tablet of Atopica, a treatment for atopic dermatitis in dogs. When Allpack installed a new line for Atopica and other solid-dose products it handles, film specification and procurement remained in the hands of Novartis personnel.
What they discovered, however, not long after the new line went into production was that the practice of ordering preprinted lidding film for the blister packs containing Atopica, and then adding variable information like date and lot code by means of digital thermal ink-jet coding, carried a costly penalty. The product being packed doesn't change much. But the country for which the product is destined does change, frequently enough that changeover inefficiencies were causing problems. The foil lidding material had to be removed from the machine and put back in inventory so frequently that it was causing a lot of downtime and nonproductive labor costs.
As Novartis and Allpack recognized the shortcomings of their film procurement routine, they decided it would make more sense to buy unprinted lidstock that could be printed on-line. This decision brought them to Hapa (www.hapa.ch) — by coincidence a Swiss neighbor—which specializes in just-in-time printing solutions in both on-line and off-line formats. Allpack opted for an on-line solution, specifically the Hapa Model 230 Flexo Duplex two-color printer. Capable of 120 cycles/min, it uses ultraviolet light to instantly cure the ink laid down by a flexographic print plate in both stations. The plates are ordered from Hapa, which uses a laser engraving system to make them.
The decision to move to an on-line printing format carried some element of risk. Should anything go wrong with the printer, production grinds to a halt. But in Allpack's case, prior experience with one of Hapa's off-line solutions served as a confidence builder. According to Dr. Rolf Seiferman, head of QA/QC at Allpack, that made it easier to pull the trigger on a switch to on-line printing.
A prerequisite to the installation of the Hapa hardware was the removal of the digital thermal ink-jet unit that had been mounted on the thermoform/fill/seal system for printing of variable data. The Model 230 Flexo Duplex unit was then installed next to the Uhlmann (www.uhlmann.de) form/fill/seal system on which Atopica blister packs are produced. The model 230 prints lot and expiration data just as easily as it prints the copy and art that used to be preprinted.
In-plant visit
On the day this editor visited Allpack, a 100-mg dose of Atopica was packed in a five-up format. In the process, a 100-micron forming stock is pulled from its roll into the Uhlmann Model 1030 ETPS form/fill/seal system. Exiting a cooling station that preps the foil for the cold-forming process, the material is formed to a depth of 8.3 mm. Tablets are metered in from a tablet feeder.
From the Hapa machine, 25-micron foil lidstock is fed in a direction perpendicular to the direction in which the tablets are moving. It makes a right-angle turn over a turning shoulder and is then fed down to the heat-seal station where lidding is married to forming stock. A die-cutting mechanism punches out five-count blister packs from the continuous sheet and a pick-and-place device with vacuum cups feeds individual packs to a conveyor that carries them downstream to secondary packaging.
Cartoning is first, and it's done on a machine supplied by Uhlmann. From a magazine stack, three individual packs are dropped in a stack into a flighted conveyor. The cartoner pulls flat carton blanks from a magazine and erects them so that the stacks of three can be pushed in. Also pushed in is an information pamphlet fed from a magazine. Flaps are then tucked and glued closed.
Also mounted on the cartoner is a Wolke (www.wolke.com) digital thermal ink-jet printer that puts 2D bar code and human-readable data containing lot and date code information.
Cartons pass next over a checkweigher from Bosch Packaging Technology (pa.bosch.com) and then a Wilux Print (www.wilux.ch) tamper-evident label applicator that puts a clear film label over one carton flap. A Skinetta (www.skinetta.com) bundler model Filmtech 3030 groups cartons in sixes, and the bundles are then manually placed in cases.
Allpack's Seiferman says the switch to on-line printing has brought a noticeable boost in productivity. The need to change lidding material frequently would have been complicated enough in any packaging operation. But in a pharmaceutical packaging operation like Allpack's, where pre-printed packaging materials have to be carefully tracked and reconciled to prevent any possibility of a product finding its way into packaging material that bears the wrong copy or graphics, frequent changeovers were especially labor-intensive and time-consuming.
On Allpack's newest blister pack line, notes Seiferman, those days are gone.
Companies in this article