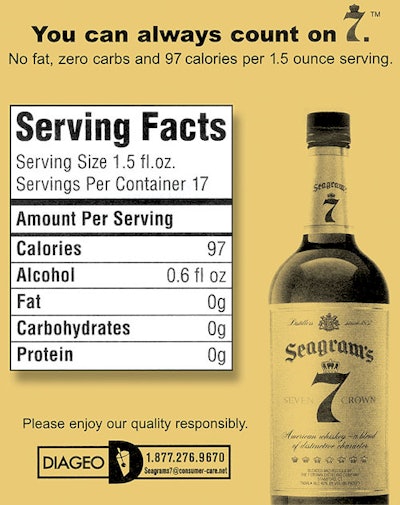 Nutrition labeling for alcoholic and soft drinks may get more potent if the Center for Science in the Public Interest (CSPI) gets its way. The group wants a new "Alcohol Facts" label for wine, beer, and distilled spirits as well as a "health advisory" for non-diet soft drinks. The Bureau of Alcohol and Tobacco Tax and Trade (TTB) at the Treasury Department has already started a rulemaking on the first; the Food and Drug Administration is considering opening a rulemaking on the second.
The TTB has finally gotten around to considering a petition submitted in December 2003 by the CSPI, National Consumers League, and some other groups. That petition asks for a new, mandatory "Alcohol Facts" label that would include calories per serving, the amount of alcohol per serving, amount by volume, and ingredients, but not other nutritional data such as carbohydrates, fat, and protein.
In addition, the label would compare the alcohol content per serving in a mixed drink, for example, to the alcohol in a similar serving of beer and wine. The TTB is also considering adding other elements to the label such as disclosure of allergens, which has been a particular problem for some wine consumers.
It is currently illegal to put alcohol-per-serving on a label; alcohol by volume can be noted. Companies can list protein, carbs, calories, and fat per serving if they follow certain guidelines the TTB laid down in April 2004. That leeway has been used by marketers of light beers and some distilled spirits, according to Art Resnick, a spokesman for the TTB.
Rulemaking to look at changes
But those ground rules are up for grabs now that the TTB has opened a rulemaking—where the TTB has only questioned the wisdom of possible changes, with no proposals made—which has thrown the distilled spirits, wine, and beer industries into a tizzy.
None of the three sectors support the mandatory labeling proposed by the CSPI and consumer groups although individual segments think some aspects of the CSPI request, if voluntary, make good sense. Jeff Becker, president of the Beer Institute, likes the idea of per-serving alcohol content labeling, for example. But he thinks it would be misleading for distilled spirits; where one serving of beer is almost always a 12-ounce can or bottle, one serving of a mixed drink can be all over the place. A mixed drink can call for one serving of liquor at one ounce, or more than that.
Frank Coleman, spokesman for DISCUS, the distilled spirits trade association, says his group supports mandatory alcohol content labeling by volume, which most companies do already, and voluntary nutrition labeling, which could include listing the amount of alcohol-per-serving. The TTB already allows voluntary nutrition labeling under the April 2004 policy statement; companies can list carbs, calories, etc. as long as the labels use a standard format, which requires what is called a statement of average analysis.
Some distilled spirits companies want TTB to expand the nutrition information currently allowed to include alcohol content per serving. Diageo asked TTB in April to allow it to put nutrition labels and alcohol per serving on labels of Smirnoff vodka and Smithwick's beer. But the TTB rejected those requests pending the outcome of the current rulemaking.
Diageo, the largest distilled spirits company in the world, then announced on July 25 that it will unilaterally add new information to its labels and secondary packaging in countries where laws allow. So, for example, in the European Union, Diageo products such as Guinness, Smirnoff, J&B, Johnnie Walker, Baileys, and Beaulieu will carry values on energy, protein, carbohydrates, and fat. Elsewhere, products may note allergen and alcohol content.
Isabelle Thomas, a Diageo spokeswoman, says the relabeling and repackaging of affected products—the company has 10ꯠ different packages worldwide—will take five years. She declined to detail the costs of the move.
However, Diageo's bid in the U.S. to add nutrition information to its product labels is opposed by the CSPI and its allies. George Hacker, director of the alcohol policies project at the CSPI, argues, "Alcohol is not a food, and labels should not suggest to consumers that they seek nutrition complements in the alcoholic beverages they drink. Also, you can be assured they will use that information where it assists their marketing endeavors, and that is a poor excuse for nutrition labeling."
United front in soft drinks
While the alcohol industry is split over the TTB rulemaking, the soft drink industry is totally united in efforts to bury a petition submitted by the CSPI to the FDA. With a goal of reducing childhood obesity, the CSPI asked the agency to require a series of rotating health notices—warning labels, in essence—on containers of all non-diet soft drinks, both carbonated and non-carbonated. CSPI said that those messages could include advisories such as: The U.S. Government recommends that you drink less (non-diet) soda to help prevent weight gain, tooth decay, and other health problems. Or: To help protect your waistline and your teeth, consider drinking diet sodas or water.
Sebastian Cianci, an FDA spokesman, says the FDA is obliged to solicit public comment and make an initial decision within 180 days whether to reject the petition, accept it and start a rulemaking or ask for additional time to consider the matter. The FDA will make its decision based on, first, whether it has jurisdiction, and second, on whether there is sufficient scientific justification for moving forward.
Some soft drink companies are already making labeling changes that respond to health concerns. Kirsten Witt, a spokeswoman for Coke, says her company is phasing in new, dual labels for all its soft drinks that will give nutrition values for one serving and the entire package. So, for example, the label for Coke soft drinks will provide calories (and all the other lines in the Nutrition Facts panel) for an eight-ounce serving and an adjoining, second panel will list the same information for the entire bottle, be it 16 oz or 20 oz.
The labeling change will be phased in through early 2006; Sprite ReMix and Coke with Lime labels were the first ones to undergo the redesign. Witt says the labeling changes will not cost the company much because they are being done in the normal course of business.
But soft drink companies remain adamantly opposed to the CSPI proposal. Susan Neely, president of the American Beverage Assn., says, "To ask the FDA for warning labels on soft drinks, or any food products that contain caloric sweeteners, patronizes consumers and lacks common sense. Where would such a food 'hit list' stop? Even skim milk and thousands of other food products could potentially fit into a CSPI labeling scheme because of the sugars contained in those products."
Companies in this article