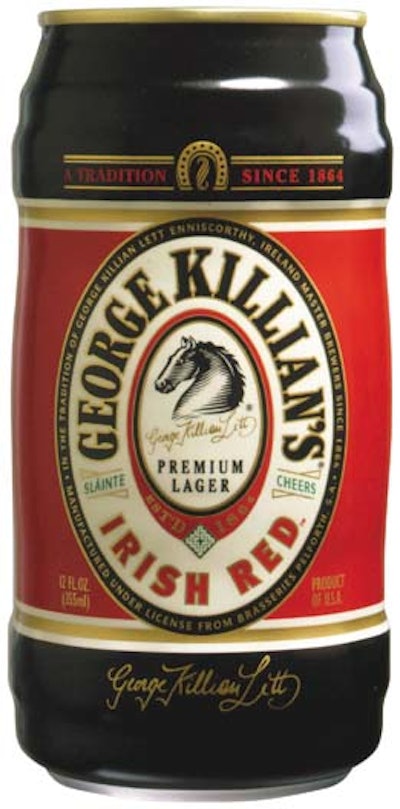 Introduced in February, the barrel-shaped, custom 12-oz contour cans sport a glue-applied oriented polypropylene body label printed in five colors.
"Providing an incredibly attractive can opens up a lot of opportunity in retail for a brand that hadn't been there before," states Dave Taylor, communications manager at Coors. "To develop a can for off-premise use that reminds consumers about Killian's keg distribution is a great marketing tool."
The cans are sold nationally in paperboard wraparound-style six-packs.
"The special shape and label help to reinforce the European look and feel," adds assistant brand manager Patricia Shibata.
Label and can design were done in-house with the assistance of Landor Associates (San Francisco). The OPP substrate is supplied by Salem Label (Salem, OH) as five-color flexo-printed rollstock.
With a slightly bulging middle and shallow flutes ringing top and bottom, the can inside the appealing OPP wraparound label has a few things going for it. "[It] resembles the shape of a barrel, which we felt was appropriate for the brand," says Shibata.
The can also features a wide-mouth opening, "a very convenient package for pourability," Shibata points out.
The 12-oz all-aluminum cans and wide-mouth pull-tab ends are produced by the company's Golden-based Valley Metal subsidiary, a joint venture with American National Can (Chicago, IL).
Product manager Jim Youker credits ANC's involvement that included its prototype can-making facility in Chicago.
Valley filled
Cans are manufactured and labeled at Valley from rollstock film using a labeler from B&H Labeling Systems (Ceres, CA). Labels are affixed to the cans using hot melt adhesive and shrunk to fit. Labeled cans are shipped halfway across the country for filling at the company's plant in Elkton, VA, in the Shenandoah Valley. The Elkton plant then multipacks the cans into wraparound six-pack cartons.
Obviously, this premium package carries an upcharge vs conventional litho-printed cans. Coors' lone comment regarding costs is that it "certainly isn't cheaper than regular cans,'' says Taylor. "That's the challenge of packaging innovation: With all these great packaging technologies out there, how do you harness them and make a package that not only is attractive and adds value, but can be produced in a cost-effective way? That's what it comes down to."
Companies in this article