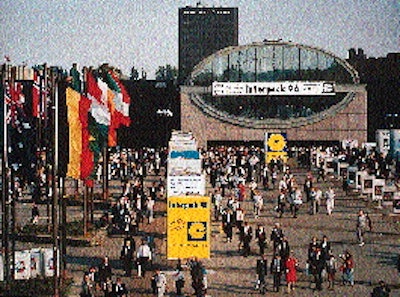 No matter how you approach it, the sheer breadth of interpack 96 makes the show more appealing and more daunting to visit. Like the most recent interpack in 1993, 180ꯠ to 200ꯠ visitors are expected for the seven-day show, May 9 to 15, at Messe Dsseldorf Fairgrounds; show hours are 10 a.m. to 6 p.m. each day. More than 2ꯠ exhibits will encompass 15 separate exhibition halls.
As always, the attendance numbers and the space the show occupies are staggering. However, it's important to point out that European show attendance includes exhibitors and the public. Expositions in Europe do not limit entry to business people only. And, again this year, interpack 96 will devote two complete exhibit halls and parts of two others to manufacturers of machinery exclusively for confectioners.
Qualifiers aside, packaging machinery will fill nine exhibit halls (covering 1.4 million sq'), and packaging materials and packages will be displayed in more than three halls. As overwhelming as this sounds, keep in mind that Messe Dsseldorf is different from conventional U.S. exhibition sites. It's a self-contained, 145-acre campus that includes conference and banquet rooms, travel and transportation agencies, a selection of restaurants, shops, banks and a post office.
This show is truly international in scope. Over half of the exhibitors (55%) are from companies outside Germany, nearly the same percentage of attendees. In fact, U.S. visitors outnumber foreign attendees from all countries except The Netherlands and France. Visitors from the U.S. will be especially welcomed at the U.S. pavilion in Hall 10, cosponsored by the Packaging Machinery Manufacturers Institute. U.S. travel arrangements to Dsseldorf and for side trips can be made through Arrington Travel Center (Phone: 800/200-6338).
Just as co-locating of shows is becoming common in the U.S., interpack has, for the second time, attracted METPACK '96, an international trade show for food and beverage canmaking. METPACK (see p. 39 for more details) is scheduled for May 7 to 11 in Essen, Germany, just a half-hour from Messe Dsseldorf by car or train.
Conferences on environment
As befits such a gathering of packaging specialists, interpack 96 is surrounded by a variety of conferences and seminars.
May 9: The International Symposium on Packaging and the Environment will be held at the Congress Center at the fairgrounds. Dr. Angela Merkel, Germany's Minister for the Environment, is the keynote speaker. Presentations will cover Germany's closed-loop recycling systems, Duales Deutschland, other European recycling programs and particularly the European Union directive on packaging.
May 10: The International Mechanical Engineering Forum, also at the Congress Center, will focus on "Opportunities in the Growing Asian Market."
In addition, other organizations plan to hold conferences coincident with interpack 96:
May 7-8: Nova-Pack '96, sponsored by Schotland Business Research (Phone: 609/466-9191), will concentrate on polyethylene terephthalate packaging innovations for food and beverages. It will be held at the Dsseldorf Hilton Hotel.
May 8: AmeriPack will discuss the global transfer of packaging technology. It's sponsored by the Institute of Packaging Professionals (Phone: 800/432-4085), and will be held at Hotel Nikko in Dsseldorf.
May 8-9: METPACK '96 Congress is scheduled to be held in Essen, Germany, the site of METPACK, the International Trade Fair for Metal Packaging (see p. 39). The Congress is sponsored by Packaging Strategies (Phone: 610/436-4220). A list of exhibitors of interest to U.S. packagers follows.
U.S. exhibitors
A substantial number of U.S. manufacturers will be exhibiting at interpack 96, among them:
Action Packaging Automation
Alcoa Zepf
AlliedSignal, Inc.
Automatic Liquid Packaging
Autoprod, Inc.
Better Packages
Cortec
Cozzoli Machine
Diagraph Corp.
Do-It Corp.
Doboy Packaging Machinery
Douglas Machine
Econocorp Inc.
EG&G Instruments
Electro Cam Corp.
ELF Machines
Elmar Industries
Felins, Inc.
George D. Woody & Associates
Glue Fast Equipment Co.
Hartness Intl.
Hueck Foils
Inkjet, Inc.
R. A. Jones & Co.
Key Technology
Kirby Lester, Inc.
Klockner-Bartelt, Inc.
Koch Supplies
Kwik Lok Corp.
W. A. Lane, Inc.
Lasertechnics
Marsh Co.
Mateer-Burt Co.
McBrady Eng.
Metal Edge Intl.
Mocon/Modern Controls
Molded Fiber Glass Tray
New England Machinery
Optima Corp.
Osgood Industries
Pace Packaging
Packaging Machinery
Manufacturers Institute
Packaging World
Park Products
Peerless Machinery
Peters Machinery
Pinnacle Automation
Portola Packaging
PurePulse Technologies
Quadrel Labeling Systems
Sasib Packaging/The Paxall Group
Sencorp Systems, Inc.
Shanklin Corp.
Sonoco Products
Stokes-Merrill
Styrotech Corp.
Taptone, Div. of Benthos
Tops Engineering
Videojet Systems Intl.
Also exhibiting will be a large number of multinational companies that have affiliates in the U.S., including:
A-B-C Packaging
ACMA
Alcan
All Fill
Alpha Dot
Amplas
Angelus Machine
Anker Machine
Applied Holographics
Automated Packaging
Avery Label
Balluff
Bausch & Stroebel
Bradman-Lake
Bekum Machinery
BFB
Bizerba
Bilwinco
Blueprint Automation
Boekels
Robert Bosch
BP Chemicals
Branson Ultrasonics
BWI, Fords Holmatic
BWI, Inex
BWI, KP Aerofill
Cape Systems
Cavanna
CHEP
Cintex
Combi
Continental Can
Continental PET
Courtalds Films
Cyklop
Dubuit Machines
Enercon
Erca
Esselte Meto
Fawema
Flexicon
Focke Co.
fp Packaging
Fuji Seal
Garvens Automation
Gasti
GE Plastics
Genpack
Luigi Goglio
Graseby
Haendler & Naterman
Hassia
Hayssen
Heat & Control
Hema Intl.
Heuft Systems
Hoechst
ICI
Ilapak
Adolf Illig
IMA Packaging
Imaje
Interroll
Intersleeve
Intralox
Ishida
ITW Dynatech
IWK Packaging
Jagenberg
Johnson Controls
Kallfass
Kalish
KHS Machine
Kisters Machine
Klockner Haensel
Klockner Pentaplast
Krones
Kuraray
Lamiflex
Langen
Langguth
Lawson Mardon
Leuze Electronic
Loma
Longford
Lumonics
Markem
Mead
Mettler Toledo
Mobil Plastics
Moellers Machinery
MSK Packaging
Multivac
Nefab
The New Resina Corp.
Newtec
Norden
Nordson
Ocme
OK Intl.
Packaging Technologies
Pactec
Padlocker
Paper Converting
Perstorp
Pfankuch
Piab
Piepenbrock
Posimat
Rexam Medical
Rexnord
Remy Equipment
rommelag
Rosenlew
Rose Forgrove
Rovema
Safeline
Sartorius
Sato
Scheidegger
Gerhard Schubert
Seidenader Machine
Christian Senning
Serac
Sidel
SIG
Signode
Soco System
Sollas
Spear
Strapack
Strapex
Superfos
System Print
Tetra Laval
Tipper Tie
Uhlmann
United Paper Mills
Valco
Videojet
Weber Marking
Weckerle
The West Co.
White Cap
Willett
Windmoeller & Hoelscher
Woodman
Yamato Scale
Zalkin
Companies in this article
Videos from Diagraph, An ITW Company