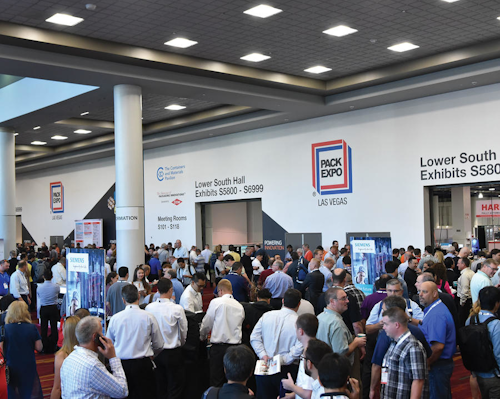 "Estamos muy entusiasmados con la presentación de distintas novedades en la feria que le otorgarán aún más valor a los profesionales de la industria quienes viajan exclusivamente para asistir al evento", afirma Laura Thompson, vicepresidenta de ferias comerciales de PMMI. "Siempre estamos buscando diversas maneras de mejorar la experiencia de los asistentes y proporcionar acceso a las últimas tendencias de la industria y a los líderes de opinión, así como a potenciar el relacionamiento durante el evento. Y qué mejor manera de hacerlo que ofrecer más experiencias y educación en el área de exposición para maximizar el tiempo en la feria".
Zona de robótica
La innovación en automatización está impulsando desarrollos rápidos en robótica. Este año PMMI dedicará una zona completa en el pabellón norte para demostrar algunas de las últimas tecnologías en robótica, donde puede presenciar sus capacidades y verlas en acción.
Al llegar a la Zona de Robótica, el robot PACK EXPO Omron Greeter les dará la bienvenida a los asistentes. Como parte de esta nueva zona, los equipos de las escuelas secundarias de Las Vegas exhibirán sus robots en movimiento en la exhibición Future Innovators Robotics Showcase. Posteriormente, PACK for a Purpose: Robots Fighting Hunger (Empaque con propósito: Robots que combaten el hambre), en colaboración con la fundación benéfica Blessings in a Backpack, presentará robots que mostrarán una variedad de aplicaciones diferentes mientras empacan alimentos para niños. Los patrocinadores participantes incluyen a Bosch, Chicago Electric con Yaskawa, Fanuc America y ProMach con ABB y Universal Robots. Blessings in a Backpack (bendiciones en una mochila) beneficia a los niños que enfrentan inseguridad alimentaria en Las Vegas y en los Estados Unidos.
Dado que la feria tiene lugar en Las Vegas, la zona de robótica incluirá, por supuesto, juegos de azar y un espectáculo, ya que los visitantes pueden ver el robot interactivo de juego de dados de Omron, así como el robot que juega bolos de Ready Robotics mientras escuchan un concierto del robot-pianista de Kuka.
Comau exhibirá su exoesqueleto portátil interactivo, los asistentes pueden probarse un traje portátil y realizar tareas asistidas y manejo de productos. También se verá la Exposición de Herramientas de Fin de Brazo de Soft Robotics que demostrará una herramienta de este tipo diseñada para imitar la mano humana, para agarrar y manipular elementos que varían en tamaño, forma y peso.
Finalmente, en PACK EXPO podrán presenciarse diversas actividades de Pick and Place / Reubicación en acción, por cortesía del Laboratorio Robótico Autónomo de la Universidad de Waterloo y la demostración de detección de objetos y agarre flexible con inteligencia artificial, patrocinado por Siemens.
Interactúe en The Forum
The Forum, un elemento básico y cada vez más grande en el portafolio de ferias de PACK EXPO, hará su debut en PACK EXPO Las Vegas en el Pabellón Central con su intercambio interactivo de conocimientos de la industria.
Este evento ofrece sesiones de aprendizaje gratuitas de 45 minutos acerca de las últimas tendencias de la industria, incluidas actividades prácticas, debates en grupos pequeños, y preguntas y respuestas cada día de la feria.
Las organizaciones líderes que realizarán sesiones interactivas en The Forum incluyen:
• La Red de liderazgo de OpX
• La Contract Packagers Association – Asociación de Empacadores por Contrato (CPA)
• El Institute of Packaging Professionals (Instituto de Profesionales del Empaque) (IoPP)
• The Organization for Automation and Control (OMAC) (Organización para la Automatización y el Control - OMAC).

• La Robotics Industries Association - Asociación de Industrias Robóticas (RIA)
• World Packaging Organization (WPO) - Organización Mundial de Empaque (WPO)
• PMMI U
• PMMI Business Intelligence
Después del lanzamiento exitoso en 2018 en PACK EXPO International del PACKage Printing Pavillion, este pabellón se centrará en las ventajas de la impresión digital, mostrando lo último en soluciones rentables inteligentes, tirajes cortos, impresión bajo demanda, datos variables y empaques personalizados. También está localizado en el pabellón central.
CareerLink LIVE en PACK EXPO
CareerLink es la bolsa de trabajo en línea de PMMI que se lanzará por primera vez en PACK EXPO Las Vegas y Healthcare Packaging EXPO 2019.
CareerLink LIVE @PACK EXPO es una oportunidad para que PMMI, CPA, miembros del Instituto de Profesionales del Empaque, IoPP, y compañías fabricantes de bienes de consumo envasados ​​(CPGs, por su sigla en inglés) puedan reunirse con estudiantes y veteranos quienes buscan carreras en empaque y procesamiento durante entrevistas informativas individuales. Las entrevistas se llevarán a cabo en la feria y el registro cuesta $ 49.
Steve Miller ayuda a ayudar
Si bien no es un evento nuevo, PACK gives BACK™, patrocinado por Rockwell Automation, regresa a PACK EXPO Las Vegas y Healthcare Packaging EXPO con un nuevo acto y una nueva organización benéfica. Encabezará el evento de este año el legendario Steve Miller Band, conocido por éxitos como "The Joker", "Livin 'in the USA", "Take the Money and Run", "Fly Like an Eagle", "Jet Liner", " Jungle Love" y "Abracadabra".
Una parte de las ganancias del evento de este año apoyará a NS2 Serves®, una organización sin ánimo de lucro dedicada a ayudar a los veteranos militares estadounidenses recientes a pasar de las botas de combate a los trajes de negocios. Este grupo caritativo brinda valiosa capacitación en TI y asistencia laboral sin costo alguno para los veteranos. La recaudación de fondos el lunes 23 de septiembre comienza con una recepción de redes a las 4 de la tarde, seguida de la actuación de The Steve Miller Band a las 5:00 de la tarde, en el pabellón central del Centro de Convenciones de Las Vegas. Los boletos cuestan $ 95 e incluyen bebidas y aperitivos ligeros. Para obtener más información y comprar boletos visite: packexpolasvegas.com/pack-gives-back.
Para realizar un seguimiento de todas las novedades, así como de los "viejos" favoritos, los asistentes pueden usar My Show Planner para verificar el cronograma de actividades, agregar sesiones a su itinerario y planificar rutas alrededor del piso de exhibición.
El registro, que incluye el acceso a PACK EXPO Las Vegas y a Healthcare Packaging EXPO cuesta $ 30 hasta el 30 de agosto, fecha después de la cual el precio aumenta a $ 100. Para obtener más información y registrarse en línea, visite packexpolasvegas.com y hcpelasvegas.com.
Companies in this article