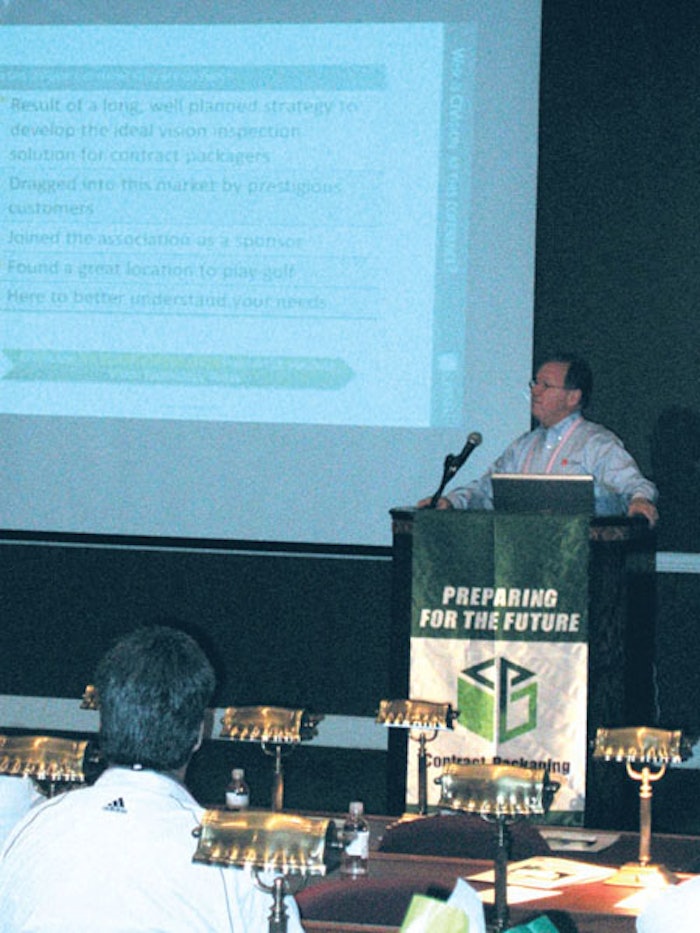 When business travel was restricted and many meetings were being canceled with significant penalties incurred, the Contract Packaging Association (CPA) went ahead with plans to meet outside of Braselton, GA, at the Château Élan Winery & Resort. The dates were March 20-23 an "iffy" time at this latitude for any event with a meaningful outdoor component.
The day before the meeting began, the weather cleared and warmed to respectable daytime high temperatures between 67º and 73º Fahrenheit. All outdoor events were held in reasonable comfort. We were lucky.
The venue, food and beverages, business program, and networking and social-recreational activities received high marks on evaluation forms. One new element, tabletop exhibits, did not fare as well in its initial exposure. It is the CPA's intention to maximize exposure for the five exhibitors during the coming months, as well as to make appropriate modifications to assure success of tabletop exhibits in the future. Sincere thanks go to sponsors (CIVision, Eric Greenberg, and Contract Packaging magazine) and exhibitors (Bemis Clysar, Nulogy, Packaging Distributors of America, Tripack, and Ampac Flexibles). Their support enabled the event to make annual-meeting budget numbers.
Two awards were presented at the President's Welcome reception March 20. The first was presented to John Mazelin, (Concept Packaging Group) outgoing CPA president, for his vision and numerous contributions over the years. With Mazelin's vision, the association has become the voice and force of contract packaging. John Riley (Rapid Air Systems), incoming president, presented the award to Mazelin.
Mazelin then gave an award of merit to Scott Thomas (Cryovac-Shanklin) for his ongoing efforts in building CPA membership. Thomas and his company also donated golf balls and clubs for the annual meeting's golf tournament.
CPA Industry Report
Providing previously unavailable information relating to what the business and service of contract packaging is and will be, the CPA's "State of the Contract Packaging Industry" report is 76 pages and includes a CD database of 1,300-plus member and nonmember contract packagers. These packaging companies are those that responded to the survey, and they provided indispensable insight in refining current business and planning for the future.
Targets for current promotion of the report include:
• Contract packagers that have neither participated in the survey process nor already purchased the report.
• Companies considering mergers and acquisitions.
• Investment bankers looking to invest in rapidly growing packaging segments.
• Other interested/involved individuals.
• Consultants.
• Government agencies.
• Universities offering packaging degrees (12).
• Libraries that carry extensive reports of this kind.
Promotional material, marketing strategy, and contact information will be developed for each group. These components will be entered in a database.
2010 CPA annual meeting
Evaluations by attendees of the 2009 annual meeting also reinforced efforts by the association to hold future meetings in a guaranteed-warm location. Attendees also expressed a desire to hold the annual meeting beginning on a Thursday and ending at noon the following Sunday. This request was made so that attendees could return to work Monday.
Requests also were made to look carefully at the third week of February (tentatively February 18-21, 2010), to avoid holidays, spring breaks, and family vacations, as well as try to provide a break from the cruelest stretch of winter weather. The association will announce the dates and locations of the 2010 meeting as soon as they are selected. Watch for updates at www.contractpackaging.org/annualmeeting and in Contract Packaging magazine.
Member benefits
A new option is available to members at www.contractpackaging.org. The recently developed Contract Packaging Association Forums includes links to the Machinery and Supplies for Sale forum and the newly integrated Request for Quote (RFQ) forum.
This new forum option will allow designated individuals to receive RFQs by logging onto the Web site and securely viewing current RFQs in the forum. Members still will receive RFQs in their e-mail, but this new option gives you an additional opportunity to view them when e-mail access is not possible.
Members can access the forums section by clicking on the Contract Packaging Association Forums button on the site's navigation bar.
RFQs sometimes don't make it past some e-mail spam filters. Members, please adjust yours to accept e-mail from mvonqualen@contractpackaging.org.
We continue to encourage members to visit www.contractpackaging.org and check the Breaking News section, Machinery and Supplies for Sale, Supplier News, CPA Quarterly Report Newsletters, and the entire membership directory under Find a Contract Packager to keep up with what is happening around the association.
Request for Quote (RFQ) tracking
The Marketing Committee has chosen to tackle the RFQ questions that have been on all our minds for some time. Questions have been developed, including:
1. Did you receive a response to your RFQ?
2. If yes, were there viable choices to consider?
3. Were any of the respondents qualified to handle the contract-packaging project outlined?
4. If yes, have you had contact with one or more CPA service providers?
5. Has the project been fulfilled?
6. If yes, was it by a CPA member company
7. Would you recommend the CPA's RFQ mechanism to others?

Answers to these questions will be considered as part of 30-day project to improve the RFQ-tracking service. Afterward, results will be evaluated, conclusions drawn, and actions taken. If considered a valuable undertaking, the project periodically will be repeated.

Companies in this article